Max-Sin Touch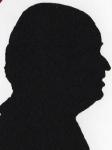 Review controls
Nothing elicit this is an MP3 player with no buttons it is all controlled by touch and when switched off these controls are totally invisible.
Buy Now
Only 57.16 from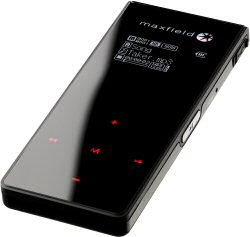 The Maxfield Max-Sin Touch is a very small and thin unit it is 8x3x.5cm and weights well under 50grams.
The only visible controls are the 'Hold' slider on the left side together with earbud socket. The right side has on/off push together with reset pin hole and rubberised bung covering the small USB socket. The top has a carry strap hole and that is it. Certainly minimalistic. The front has a 2x1cm display that has four lines of white writing and this is extremely readable for such a small display. However after a few seconds this blanks out and once again you are unawhere that there was ever a display screen there as all you see is the shiny black of the unit.
Below the display are < + M - > arranged in a plus sign (+) formation with the M at the centre these show up in red and are the touch controls for the unit. The one drawback is that fingermarks do tend to mar the bright shiny black look and a wipe with a tissue is often needed to restore it to pristine condition.
Sound quality is okay either using the supplied earbuds or if you have a favourite set your own will work perfectly well. However there a couple more 'smalls' the impressive mirrored finish card box is 10x10x7cm about the size of a watch box. The other small however the memory is only 512MB and by today's standard that is certainly not up to scratch.
I doubt many will need a manual for this MP3-WMA-OGG music player but should it be required it is in PDF format on an 8cm mini CD in another mirrored finish box inside the main one. However the CD does have a purpose for those using Windows 98 as a driver for them is required and it's on the CD. There are six 16 page getting started guides one in English and the other in German as normal but four other languages are included as well, these should be able to answer any questions but once charged up and switched on most will be able to negotiate the menu structure. I found this easier (as a non German reader) than some other of the Maxfield range I have looked at.
The Li-Polymer battery is recharged from a USB port, the stated battery life between charges is 'up to 11 hours' the best I got was something over 9 hours in continuous use. When you switch on you can be sure that you resume at the point you were at, not perhaps vital for music but certainly useful when listening to text.
The 3D surround is much vaunted but I did not find it that impressive. There are several equalizer settings but also the ability to setup for two different users.
The box is impressive but 'all that glitters is not gold' springs to mind and for most once the item is removed from the box it never sees it again. I found the touch controls impressive but it is easy for them to be activated unrequested in a pocket or purse so the 'hold' becomes vital, I know I found it was often moving between tracks.
The packaging deserves a design award, the controls are innovative the size is small but lots of other MP3 offer a lot more and many at a lesser price.
I found the 1GB version for £57.16 from Amazon