Chromecast in 2017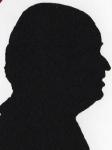 Very different to the original first launched in 2014 and a little bit different to Chromecast 2 launched two years ago. It really is just a matter of plugging into an HDMI port and downloading an App to your phone the link is almost instant and then almost anything on your phone can be 'cast' to the HDMI screen be it on a TV or computer.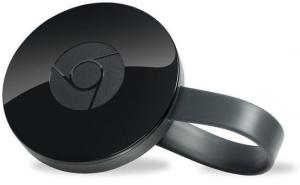 click image to enlarge
The original Chromecast was an oversize USB stick which meant at the very least it would obstruct ports either side of the one you connected to and in most cases you would need to hang it from an extension lead. The latest model is small and circular and is attached to a short lead so it gets away from the other ports on the rear of your TV or panel.
It has a 1.5metre micro USB to mains lead plug so in most cases this is long enough but you can always use an extension lead if required.
Just plug the Chromecast into an HDMI port and follow the onscreen instructions. They work and it is quick far quicker than with the original. Link to your SmartPhone and almost anything shown on your phone can be cast to the Chromecast and be shown on your TV or panel.
The logical alternatives are Amazon Fire (around £10 more) or Roku (from around £10 more) while neither do exactly the same things both are alternatives.
The short explanation of Chromecast is able to 'Cast your favourite entertainment from your phone or tablet straight to the TV.What is Chromecast? Chromecast is a media streaming device that plugs into the HDMI port on your TV. Simply use your mobile device and the TV you already own to cast'.
Chromecast does have a more expensive option (Ultra) that can do all that Chromecast does in HD so if that is required then that also is an option.
Its design changed from a large USB stick shape to a flat circular shape which enabled a new better Wi-Fi which not only has 11ac but also support for dual-band (2.4 and 5GHz) but your router will determine what standards you can use.
Remember it can only show full HD 1920x1080 if you need to display 4K you need the brand new 'Ultra' version and of course a TV or panel that can support 4K resolution.
The Chromecast can 'cast' content from PC-MAC-SmartPhone-Tablet but it can also show Now TV and Netflix and mirror your Android Phone or Chrome Browser.
The original unit was more of a hit and hope solution with 'casting' now always available or to be more accurate not always working as you would want.
In my tests with this latest version it works exactly as I would expect and should you want to display content from your phone on a larger screen it now works in all cases that I tried.
The phone of course has a second job to act as a remote control as your TV or panel when used with Chromecast is essentially a dumb unit which just displays output.
Chromecast is available from Currys online or from their shops for £30.