Roku 2 Streamin Box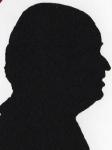 Having reviewed other Roku items the Roku 2 seems something that until now has passed me by so when offered one to review I thought I would put that oversight right. Roku are one of the big companies in streaming things to your TV the box claims '1500+ channels'.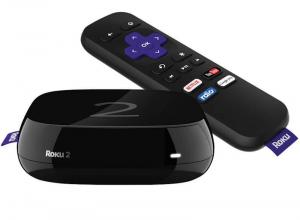 click image to enlarge
The Roku box is 9x9x2.5cm just big enough for standard cables to be inserted.
The box is black with a matt black '2' on the top. The left side has what looks like a 'pull away' Roku fabric logo on the left side. The top is clear as is the base apart from rubber insets to stop the unit moving on a shiny surface. The front is also clear apart from you needing line of sight for the remote control. The right side has a USB port. The busy area is the back that has DC input, Ethernet port, HDMI port and a micro SD Card slot below the last named.
I mentioned the remote it is 14x4x1.5cm. It has 11 well marked buttons plus the ubiquitous five position joystick control, this runs on two 'AAA' batteries.
There is a six side Roku 2 setup guide that suits multiple languages by only having text to point you to a URL to download a full user guide the rest is clear illustrations.
In the bottom of the box is a power adapter with plug fronts to suit most of the world as well as a short 50cm long HDMI cable.
Having previously reviewed the Roku 3 and the even smaller Roku Streaming Stick I knew what to expect.
Setup takes only minutes, connect one end of the HDMI lead to a port on your TV and the other end to the Roku 2 box. Insert the supplied 'AAA' batteries into the remote control. Tune your TV to the HDMI channel and you are ready to go.
I mentioned the Ethernet Port you can use this providing your router is near enough for a cable to reach but you can also use Wi-Fi and that is what I did as I set this on my kitchen TV that would require a long Ethernet cable to reach the router and probably someone would soon trip over it anyway.
There are four dedicated buttons on the remote for Netflix, YouTube, Google Play and one I did not know rdio.
More importantly unlike some devices the Roku 2 has support for all the 'ex terrestrial' channels. So not only iPlayer but also ITV Player, 4 online and Demand 5. Other channels known to most are Spotify, Now TV and BBC Sport.
Something like this brings any old TV – and there is little older than my kitchen TV – right up to date I think Digital TV was new when it came into life. Now I can watch things that would otherwise require my computer or my much more modern lounge TV to view.
The Roku 2 is available from the link below for £54.99 with free delivery.
http://www.amazon.co.uk/gp/product/B00VRAZ700?ie=UTF8&tag=gadge0a-21&linkCode=as2&camp=1634