Kodak EasyShare M893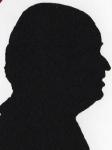 One of the latest batch of Digital Cameras from Kodak. Having recently (06-07-08) looked at a quite reasonable offering from them can this pocket offering match up.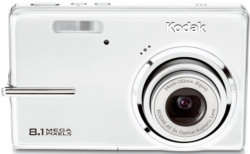 click to enlarge
Certainly an item aimed at the novice user but this is not helped by a user guide (12 languages) that does not go into enough detail. There is help on the camera that would be enough for the intermediate user but would they be using it?
The Kodak M893 digital camera measures 9x5.5x2cm, the last figure the width can double under zoom. Mine was a very pale blue and in some lights can look almost silver. There are - according to the box - four other colours available.
There are eight different image sizes available 8.1MP 4:3, 7.2MP 3:2, 6.1MP 16:9, 5MP 4:3, 3.1MP 4:3, 2.2MP 3:2, 2.1MP 16:9 and 1.2MP 4:3. With movies there is just one setting 640x480.
The face has the lens and the flash, this being no nearer than 3cm above the lens but with close flash shots you get over flash and beyond about 2.5metres it becomes ineffective.
The right side has a mini USB socket for A/V out and charge point for the internal battery, both uncovered so do not get the unit wet. The left side is clear, the base has camera dock point, tripod screw and battery door that hides the battery and any SD card you might use. The top has on/off button, flash selector and shutter release. All of which are very close to flush.
This leaves the back and this is dominated by the 5.5x4cm TFT display that is fine apart from strong sunlight. To the right of this are three other buttons the wide angle / telephoto rocker a small six position wheel and the ubiquitous five position joystick. This leaves a small red button labelled share that enables you to make fuller use of the camera dock and connections.
Each movement of the six position wheel brings up a brief explanation of the setting you have moved to and this could well be useful with the eighteen different scenes as the very small icons mean certain settings would be all but guesswork without the written explanation. I have not tested all the scene settings (snow is difficult to find in June where I live, thankfully).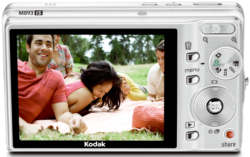 click to enlarge
With a mix of 16:9, 4:3 and 3:2 I think a lot of the images people print will be disappointing as the novice will not really be aware of the extra borders he/she could well get, the alternative will be to crop the image and possible miss some of the action.
While wide angle shots are good for display on TV's I suspect the likely market for this sort of camera will be people who still want 6x4inch prints. If they go the step further and print from a PC to a printer then several printer manufacturers allow four near 15x10cm images to be printed on an A4 sheet. At the time of writing I am just putting a Kodak AIO unit through it's paces and some of the images I shall print will have been taken with this camera.
I could find no way to shorten the six seconds the image is shown on the TFT once taken and this would stop you getting a second quick image. Most cameras allow a choice of image display times from one second (or less) upwards.
Image Stabilization is now all but standard but although this unit only had the normal 3x zoom it was not great. Face detection is also trumpeted but again was a disappointment.
Doing my Internet searches found the Kodak EasyShare M893 at a best price of £99.68 from the first link below. I also found it on sale in Boots for an extra £35. This is in fact £20 more than from the Kodak shop the second link below.
http://www.misco.co.uk/applications/SearchTools/item-details.asp?EdpNo=310596
Doing my Internet searches found the Kodak EasyShare M893 priced from $152, including shipping, from the first link below.
http://www.amazon.com/gp/search?keywords=kodak%20m893&tag=gadge0a5-20&index=electronics&creative=9325
Doing my Internet searches found the Kodak EasyShare M893 priced from €146,14 from the first link below.
http://www.amazon.fr/gp/search?keywords=kodak%20easyshare%20m893&tag=gadge04-21&index=electronics&creative=6746
www.kodak.com/eknec/PageQuerier.jhtml?pq-path=12410&pq-locale=en_GB&colorKey=blue02