Olympus Tough TG-6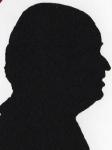 It been a while since I have reviewed a camera that can fit in your pocket, of course most recent SmartPhones have better than average cameras but I do not know any that can shoot underwater as this latest offering from Olympus can.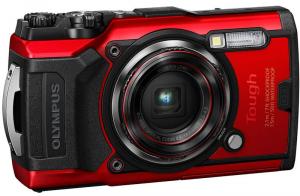 click image to enlarge
While it was clearly marked sample and it was just the camera no leads and most importantly no manual, I was able to download the manual sometime later and this helped me to fill in some of the things that the camera is capable of that I was unable to figure out without it.
I defy most to get anything like the best from this unit without a thorough read of the 168 pages of the manual.
One of the diagrams show the amount of things that are capable of being displayed on the TFT it numbers up to 46 for still image capture.
While you can stick it in Auto mode and leave all the decisions to the camera and you will get quite acceptable images, you could just select from the 22 choices in scene mode and providing your selection is correct you will get more than acceptable images. However if you really get to know this camera then you will get outstanding images and while it works fine underwater the only water I took it near was my shower partly because of limited time and partly because I'm a wimp.
So many of the controls for image capture such as flash, image type and size and so many more are not in the many menus and sub menus but available from the five position joystick menu that interacts with what is displayed on the 6.2x4.7cm TFT screen and all these choices run down the right edge of the TFT, once you know fine, and easy to change but only when you have RTFM (read the * manual).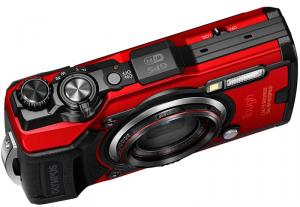 click image to enlarge
Because of its ability to work underwater both the battery / SD card bay on the base and the external connection bay on the side are double locked meaning one motion to unlock the first catch before the second motion opens the unit, not difficult but not trivial either.
With this camera in Microscope mode you can capture items as close as 1cm. For more normal shots the modes have all the bases covered. It can also take videos up to 4K.
Still images can be captured in RAW or several sizes in JPG. It can of capture 1:1, 4:3, 3:2, 3:4 or 16:9.
While I did not even try taking underwater images – what the camera is designed for – I can say that as a camera to carry around with you it does take rather good stills and movies and the sound on movies was better than a lot more expensive camcorders.
I barely had time to start using this in anything but Auto mode but towards the end of my short review period I did become more adventurous and got some rather good night shots. The foxes in my garden did not even know I was watching not that they care as I often find them sleeping on my lawn in the afternoon and they grudgingly get up and walk away.
At the time of publication the Olympus Tough TG-6 is available from Amazon for £449.99 in either red or black .