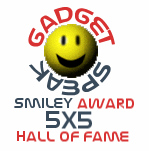 GadgetSpeak Smiley Awards
GadgetSpeak reviews are written by members of our community for the benefit of other members and based on their own experience with the subject of the review.
As part of a review, GadgetSpeak allows members to award 'Smiley Points' to a product in a set of categories. These very personal scores against a product are shown as part of the review. Members can award a product between zero and five smileys in up to five categories
Not all categories are appropriate for all reviews so an example might look like the panel below:
The Smiley Award!

It's not often that you find a product or sevice with which you just cannot find fault, but it does happen in some very rare occassions. To celebrate those products that our members rate five smilies in all five categories GadgetSpeak award a special 100% Smiley Award.
What does this mean? Well - for a start the review is stamped with out special GadgetSpeak Smiley Award logo. The review is also added to our GadgetSpeak Hall of Fame
Conditions
Obviously we want to make sure that GadgetSpeak reviews are impartial and from real people, so we'll check each 5x5 review. If we're concerned that the article may not be completely honest, or that it's actually been submitted by someone associated with the product we might get in touch with the author to verify their status.
One of my products has a 5x5 award!
A product or service that you make, provide, resell or in some other way are associated has been awarded a 5x5 smiley award!!!. You obviously want to celebrate this recognition from your customers - what can you do?
Why not link to the article? Either use a text link or feel free to use one of the award images below:
Want a hi-resolution image for print work? Click here for hi-res image award image
If you'd like to contact us about linking to GadgetSpeak site or anything to do with our site then with suggestions, comments, or product announcements then please use our contact page
Just missed out on a 5x5 award?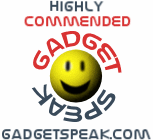 Not all products score highly enough to win a 5x5 award - lets face it how many products actually are perfect? That doesn't mean that there are not a lot of other gadgets that rate very highly, and many of those have been reviewed by our members.
To cater for those gadgets that are excellent, but that didn't quite manage to scrore a full 5x5 award we've introduced the 'highly commended' award. It's still pretty difficult to be good enough to be highly commended - only 6% of products so far reviewed qualify!
To qualify as Highly Commended a reviewer must mark a product as follows:
Must rate the product or service in at least 4 categories
No rated category must score less that 4 smileys
No more than two categories may be marked less than five smilies
Want a hi-resolution image for print work? Click here for hi-res image commended image
Want to do more?
We like to reward our members for helping make GadgetSpeak the a fun and lively online communuity. A great way to do this is through competitions. We've run a number of these since we started and they always go down well. Most of these have been made possible by organisations sponsoring a particular competition through a prize.
Would you like to highlight your products through GadgetSpeak? We always highlight the organisation making the competition possible, both in copy and with a clickable link in our navigation bar. Come and talk with us!
What about the other gadgets?
Don't be too surprised if your gadget isn't awarded anything at GadgetSpeak, we've made the criteria pretty strict. If a gadget you make or sell has a great review, but just missed out on Highly Commended then you can still link to that review on GadgetSpeak and show your customers what other people think.
You can use either a simple text link or use one of the images below:
For full information on linking to GadgetSpeak or using GadgetSpeak references please take a look at our linking page.