Archos AV320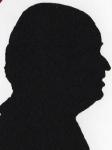 Donato among others has cast envious eyes over the Archos A300 series units. So here is what I thought when I got a pre production model earlier this year.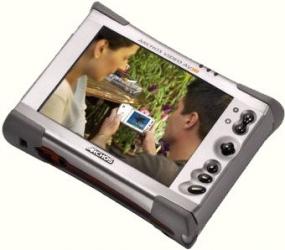 Two companies lead the MP3 market, getting beyond 128MB means a hard disk, sometime ago Archos brought out a 6GB unit, that's a lot of MP3 files, now 20MB seems to be the base level.
However with the AV300 series the biggest breakthrough, MP3, still images and also MPEG4 video but with a 8x6cm screen, that's 3.8 inches for the more mature amongst us. However it is also possible to watch the same output on your TV providing you have a SCART socket. Now the real biggie, you can record from DVD, VCR or live TV to the unit so you can watch last nights Coronation Street or East Enders on your train or bus journey.
The manuals are poor in fact so poor that I needed help to record from my TV. You are supplied with such an assortment of leads and plugs picking the right one for the right job was difficult, better labelling is promised. However in fairness I had a pre production model and the DVR (Digital Video Recorder) module that fits onto the side of the AV320 (20GB) when required was supplied in a separate box, now I am told everything comes in a single box and a few of the duplicate leads should have disappeared.
It comes with a recent copy of MusicMatch to rip MP3 files but it is also possible to use RealPlayer should you prefer. Attach the AV320 to your PC using the supplied USB lead and Windows will automatically see it as another hard disc. Now you can drag and drop files to and from it with ease. So should you have lots of pictures or graphs/charts these can all be stored on the unit and played back on either the 8x6cm display or any SCART enabled TV.
The unit is 11cm wide, 9cm tall and 3cm thick with a total weight of 350grams. It will easily fit into a pocket or handbag. The rechargeable battery (charger supplied) lasts for around 8 hours playing MP3 files, around 5 hours playing still (JPEG) images and about 3 hours playing MPEG4 video.
The one big advantage Archos has over it's rival is the ease of file transfer so the unit can be used as a 'mule' to move large files of any description from one PC to another.
I am told other add on modules will soon be available all using the socket on the side of the main unit. If you told me a few months ago I would be happy watching a TV program on an 8x6cm screen I would have said something that is unprintable, but you can, I have, and it was quite acceptable. However I see the big use as moving DVD / VCR / TV programs from one place to another, connecting the SCART plug and watching. Still images (JPEG) are excellent and on a large TV the optional four or nine image layouts work well, the AV320 even comes with a remote control so you can control it from the armchair.
I have made several journeys using it as an MP3 player with only the headphones being visible to other travellers.
There is one drawback - apart from the lousy manual - the price for the 20GB model it is £549 but do look round for offers, the site lists prices in Euros - they are French - and by my calculations its just about £500 currently.
Link: www.archos.com