One For All Music Receiver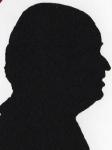 This device turns an Audio System without Bluetooth into an Audio System with Bluetooth providing you have either RCA jacks or a 3.5mm audio input, however it has an extra not found on a lot of other devices it also has Wolfson DAC.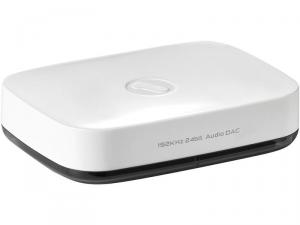 click image to enlarge
The One For All Bluetooth Music Receiver measures 10.5x6.5x2cm and you should add another 2cm to the middle figure to allow for whatever cables are inserted into it.
Supplied in the box is a DC lead to small power brick this lead is 1.8metres long, also a 3.5mm to 3.5mm lead that is 1metre long and a small RCA pair to 3.5mm plug that is 10cm long.
Finally a Quick Installation Guide one side prints safety instructions in 21 languages, the other side has a number of diagrams to cover installation of the product.
On the front there is a blue LED when it has power.
The sides top and base have nothing so this leaves the rear that has a 3.5mm socket the DC input and an optical input.
So that's it if you connect your phone or PC via Bluetooth, assuming of course your PC has Bluetooth then you can hear better sounds. Most notebooks have Bluetooth and this normally gives a far better sound. Of course the 'rubbish in rubbish out' motto still applies and most people tend to store music in MP3 rather than higher quality formats and no matter how good the speakers at the receiving end there is a limit to what you can get.
Try a CD in your audio system then convert this to MP3 and play from your phone/PC/notebook and you should be able to hear the difference.
There is another use for this unit and that is via optical and the obvious use is to take the signal from your TV and play that through your audio system. No optical cable is supplied in the box.
If you have ever had a soundbar and sub-woofer or sound stage then you know the difference you can achieve to what you hear from your TV.
There are several advantages, more base is one, more treble (higher register) is another and the whole gamut being spread means even familiar intro music to programs sound so very different.
However while this is nice the biggest advantage for the vast majority of older people is that you can hear dialog in films, for me American TV is the worst but even the BBC have problems ladies voices tend to be in the range that is hard to distinguish through normal small TV speakers. So most people tend to turn up the volume and then when music or sound effects come in you get deafened.
There is also the scenario where no matter how much you turn it up nothing improves and should you live in a connected property then you just annoy the neighbours.
Something like this with a decent set of audio speakers can help the volume level can stay lower but the clarity because the range is increased improves.
The One For All Music Receiver is available from amazon and qualifies for free delivery.
http://www.oneforall.co.uk/sv1820-bluetooth-music-receiver-hd.html