Gigabyte P34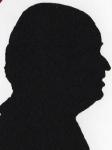 This is a smaller notebook offering from Gigabyte that comes with Windows 8. Whilst I did all the necessary updates this time I resisted the offer to upgrade to Windows 8.1. I instead completed my review with just what was delivered and the updates.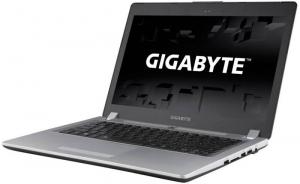 click image to enlarge
It is 33x23.5x1.8cm and weights 1765grams. It comes with Windows 8 and I decided not to do the optional upgrade to Windows 8.1.
Gigabyte offer a range of shortcuts in Windows 8 on the Desktop screen some of which are incorporated in Windows 8.1 and these are lost if you do the upgrade.
The left side has the Kensington lock fitment, Ethernet, VGA, two USB3 ports one has the option to stay live even when off for charging other devices and a dual headphone/microphone socket. The front has five pin hole LEDs. The right side has USB2 port, SD card socket, a further USB2 port an HDMI out port and a DC charging socket. The rear is clear as the lid goes back to 135degrees and partly covers it.
It has an 81 key keyboard with a 3cm strip behind it which has a pair of reasonable speakers and the 'On' button in between them. There is a 3.9cm strip both sides of the keyboard and a huge 10cm area clear in front of it this has the 10x6.8cm trackpad mounted 1.5cm from the front edge and 10.4cm from the left and 13.2cm from the right.
The visible screen is 30.7x17.4cm which gives the notional imperial diagonal measurement of close to 14inches. The default screen display is 1920x1080 and even with light behind it is still clear and not that reflective. Although the screen surround and back are black it is matt black so the dreaded fingermarks do not show. There is a web cam and microphone set in the 2.7cm strip above the screen.
Boot time did not vary during the period of the review it was 15seconds while shutdown from Desktop or Icon screen was 6seconds. I did a number of updates (but not the optional one to Windows 8.1) during the review period.
The keyboard is backlit and this and the default setting of quite a bright screen produced only around 250 minutes between charges with around 150 minutes for a full recharge (while off) from exhausted.
My unit came with 16GB of RAM, an Intel Core i7 CPU running at 2.4GHz, Windows 8 (64 bit) a 128GB SSD backed up by a 1TB hard disk. The SSD was 'C' and the hard disc 'D'.
The Windows Experience score was 6.9 made up of Processor 7.9, RAM 8.1, Graphics 6.9, Gaming Graphics 6.9 and Hard Disc 8.1. These figures of course no longer are available once you upgrade to Windows 8.1.
In use this is very rapid and I also connected it to a touch panel via HDMI and USB and it produced a very good combination.
At the end of my review I always remove all my files and this returns it to factory condition so the figure I am giving is the amount of space left on the SSD and hard disc when you purchase it. You have 53.1GB available on 'C' and 750GB on 'D'.
Finding an exact match to my test unit is not easy but the unit listed is close with 8GB of RAM and a 750GB hard drive (no SSD) is the best I can give you, perhaps another £200 would find the unit I was sent.
The one below is available for £989 with free delivery.
http://www.amazon.co.uk/gp/product/B00K8QZ8Q2?ie=UTF8&tag=gadge0a-21&linkCode=as2&camp=1634