A Sony Tablet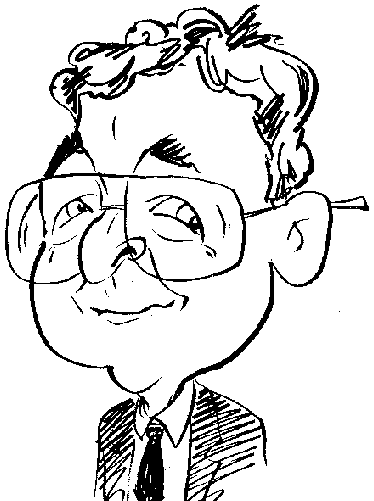 Review controls
Joining the like of Apple and Samsung in offering users both smartphone handsets and tablets, Sony latest release in the latter category is the Xperia Tablet Z. This is a 10-inch tablet running the Android operating system.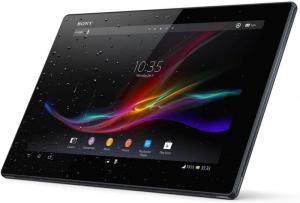 click image to enlarge
Predominately black in colour apart from the silver Sony logo on the front and the Xperia name on the rear, the Xperia Tablet Z has dimensions of 266 x 172 x 6.9mm (W x H x D) with a weight of 465. Looking almost as if it has been on a diet, this tablet should have no problems with regards mobility. While too large for most pockets, unless they are of the patch type, this tablet will slide into a bag without causing a bulge or weighing you down too much (an important consideration if you have a back like mine). The tablet also feels comfortable when being held with a preference for landscape orientation.
The Xperia Tablet Z, not surprisingly with the family connection, shares a number of features with the smaller Xperia Z smartphone. Foremost in these features is the unit's waterproof capability. Now I have to admit that, despite the rather recent wet conditions during the review period, I have not ventured out with this tablet, supplied by Vodafone, to test the waterproofing and possible resistance to wind during the adverse weather conditions. Nor have I been checking my emails or playing the latest hot game while taking a bath. Instead I have opted to take Sony's word for it that the Xperia Tablet Z can withstand blasts of water and remain submerged for up to 30 minutes and still prove capable of carrying out tasks. I could not say the same for myself.
The waterproofing aspect of this device probably explains some of the design and access facilities of this tablet. The headset socket, SIM card slot, memory card slot and micro USB port are all concealed behind rubber panels which need to be flipped out with a fingernail to gain access. These flaps help protect the device from water and other ingredients invading the innards. The headphone jack is located on the left side of the unit alongside a power stud and the volume rocker. Sitting side-by-side, the two card slots are positioned at the lower left corner while the micro USB port is at the lower right corner for charging the 6000mAh battery.
A centrally positioned 2.2MP camera sits on the top bezel when the tablet is held in landscape orientation. This camera can be used for video calling sessions or taking these "selfies" that pop up everywhere. For other photographic tasks there is an 8.1MP camera with auto-focus capability on the rear of the tablet. However the positioning of this rear mounted camera could cause problems as it can be blocked by fingers when the tablet is held in landscape orientation. This apart, both camera produce very reasonable results.
The Xperia Tablet Z is powered by a Qualcomm 1.5GHz quad-core processor with access to 2GB of RAM. As standard there is 16GB of internal storage with around 11GB available to the user once Android 4.1.2 and other pre-installed apps have taken up residency. By making use of the microSD slot you can increase storage up to 64GB.
While not exactly a slow-coach, the Sony Xperia Tablet Z is not the quickest out of the blocks when firing up from cold. Following a lengthy power stud press (I could detect no vibration to indicate when boot-up was instigated), around 28 seconds pass by before the lock screen appears.
Central to this product's functionality is its 10.1-inch multi-touch capacitive screen. While its resolution at 1920 x 1200 might not be the highest available from some competitive products, it does provide reasonable viewing angles and a respectable viewing experience especially when watching high definition videos.
As is often the company's way, a Sony slant has been overlaid on the standard Android interface. Once passed the lock screen you will be presented with the central pane of five that makes up your Home screen view. Showing just the date and time over a default wallpaper, you can quickly populate this and the other four panes with the apps of your own choosing. Running across the bottom of this initial view will be a row of icons for popular features such as camera, Walkman (well it is a Sony tablet), Movies, Sony Select and Play Store.
Info bars run across the top and bottom sandwich the main screen area. The top bar indicates the current pane plus options to bring up widgets, wallpaper and themes options plus an icon to bring up the installed apps which can be sorted in various ways including alphabetically, most used, recently installed or user defined. Fairly standard Back, Home and Recent apps buttons are located on the lower bar along with general information that I usually expect to see at the top of the screen. It does take a little adjustment to get use to this arrangement but it should not prove too difficult.
The Sony Xperia Tablet Z delivers a performance that should satisfy even demanding users once they have adjusted to the Sony inspired interface. Battery life is acceptable and should give over a full day's usage when general tasks. Playing videos, streamed via WiFi, I managed 8 hours 53 minutes before the low battery warning appeared to bring the session to a close.
As mentioned my review sample from provided by Vodafone who have a number of different contracts available for either 3G or 4G.
Vodafone 3G for Xperia Tablet Z

| Monthly fee | Minutes | Texts | Mobile | Length | Initial Cost |
| --- | --- | --- | --- | --- | --- |
| £25 | 300 | Unlimited | 250MB | 24 months | £99 |
| £29 | 600 | Unlimited | 500MB | 24 months | Free |
| £33 | Unlimited | Unlimited | 1GB | 24 months | Free |
| £38 | Unlimited | Unlimited | 2GB | 24 months | Free |
| £43 | Unlimited | Unlimited | 4GB | 24 months | Free |
Vodafone 4G for Xperia Tablet Z

| Monthly fee | Minutes | Texts | Mobile | Length | Initial Cost |
| --- | --- | --- | --- | --- | --- |
| £38 | Unlimited | Unlimited | 3GB | 24 months | Free |
| £43 | Unlimited | Unlimited | 5GB | 24 months | Free |
| £48 | Unlimited | Unlimited | 9GB | 24 months | Free |
http://www.vodafone.co.uk/shop/ipad-and-tablets/sony-xperia-tablet-z/