Krups Bean to Cup EA8150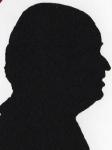 This coffee machine takes coffee beans in the top and grinds them and then prepares the coffee adds the water and then makes your coffee. It is a complete process so you cannot get fresher ground beans as it grinds them to make the cup of coffee.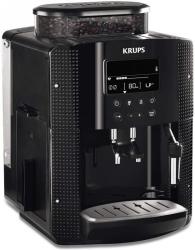 click image to enlarge
It is 30cm deep, 23cm wide and 35cm tall at the bean storage area.
There is a 28 page A5 booklet that covers operation and setting up as well as cleaning the product in sixteen languages. Seven of these pages use diagrams to cover most things then there is a single page in each language to cover more obscure things like setting up your favourite coffee strengths etc. It also explains the less obvious icons that the front display shows.
So first find out what coffee you like which probably means a visit to some different coffee chains, then find out what coffee it is and perhaps more important how it is roasted, if you do not have a shop near you that roasts coffee there are several online, and one I have used is called https://www.pactcoffee.com/ who guarantee next day delivery on weekdays. They do a range of coffees that are always freshly roasted.
Follow the instructions to flush the machine before first use and then add water to the tank on the rear that can hold up to 3.5pints of water which is just about 2litres. This is certainly enough for a lot of Expressos and for a good number of Lattes or Cappuccinos.
If you like black coffee then it's just a matter of switch on wait for the grind and tamp to happen while the water is heated and having remembered to place the cup under the twin spouts smell the coffee which will probably bring others in the household to the kitchen.
You decide how much water to coffee from the settings on the 8x5cm front display, you do need to work with ml.
For those coffees that need milk there is another step involving getting some milk from the fridge and placing it in a container, for a straight white add it and for other more exotic offerings it needs frothing and the jet of steam that the arm on the right gives decides how much froth and of course heats the milk in the same process.
So any group that like good coffee can save a good amount of money/time from visits to coffee houses and possibly improve their waist line as while in the coffee house they would possibly have purchased a cake or pastry to go with the coffee. In the home it's probably only a biscuit or possibly a slice of toast that goes with the coffee.
Full cleaning instructions are given together with descaling – some tablets to do the latter are provided in the box - instructions.
So it's the cost of the machine, the convenience of having good coffee on tap, the amount of coffee you drink and or the locality of a good coffee shop that determines if you purchase such a machine.
In my tests I found this easy to use and maintain. Having good coffee beans arrive the day after you order is also a plus. While most supermarkets sell decent ground coffee few sell coffee beans and even then how long ago was it roasted?
The Krups EA8150 is available from the link below for £281.45 with free delivery.
http://www.amazon.co.uk/gp/product/B00OT1CO0U?ie=UTF8&tag=gadge0a-21&linkCode=as2&camp=1634