GE Digital Camera G100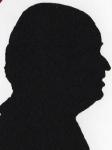 Review controls
A slightly chunky offering from GE, but the G100 has a decent CMOS sensor and it has the ability to shoot 10FPS at full resolution. It is 15x optical and takes a 14.4MP image which of course means it can also capture Full HD video.
Buy Now!
GE G100 14M pixel camera
£129.99 from PC World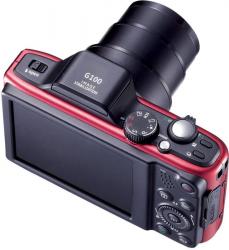 click image to enlarge
The GE G100 measures 10.5x7x3cm and weights 220grams. While it is available in black it is also sold in a flame red and as I reviewed it in white. This has a black back, top and black rubberised grip on the front as well as a silvered lens surround.
Looking at the unit from the rear the left side has strap anchor point, as does the right side as well as a rubberised bung to cover HDMI and USB ports. The base has a tripod screw and a door behind which is the solid battery and any SD card you might insert. The face is dominated by the 15x optical zoom lens that expands up to 5cm when fully zoomed. Just to its right is the light sensor and further right the rubberised finger grip.
The top has a slider switch to open the manual flash which is to its right and it is never closer than 6cm to the lens. To the right of this an eight position wheel and then a tiny silvered on/off button and then a larger shutter release that has the wide angle / zoom control around it. Finally two further black lozenge shaped buttons.
This leaves the back where the 6.2x4.7cm TFT display dominates and while the screen itself is shiny the black surround is matt so while the fingermarks are still there they do not show. To the right of the TFT a very busy area with a thumb grip and to the right of this a quick record button, below this a pair of well marked buttons and then the ubiquitous five position joystick and finally another pair of well marked buttons.
Images can be captured at 14MP, 12MP, 10MP, 8MP, 5MP, 3MP, 2MP and VGA. Movies have five sizes, FullHD 1080p, HD 720p 60FPS, HD 720p 30FPS, DVD 640x480 and WEB 320x240.
Turn the wheel to Scene mode and there are 25 to choose from as you toggle through them you get two large thumbnails below to show what the effect will give on the right and what no Scene mode will give you on the left. This is a great teaching tool if nothing else and it saves you coming home disappointed with what you captured.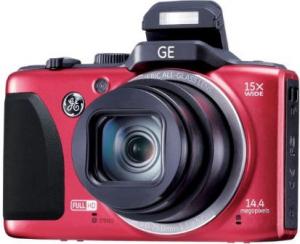 click image to enlarge
The modes are Auto Scene, Landscape, Sport, Beach, Sunset, Fireworks, Night Landscape, Multi Exposure, Snow, Children, ID, Glass, Photo Frame, Panning, Text, Portrait, Distorting Mirror, Party, Indoor, Leaf, Museum, Night Portrait, Pet Mode Dog, Pet Mode Cat and Fax. When you understand these then you are ready to start making decisions yourself. Just studying the two examples for each scene will teach you a great deal.
The 15x optical zoom should be used with care as however steady your grip I doubt that you will get a decent image unless you have a tripod or at least a solid object such a wall to hold it steady, there is image stabilization but it can't work miracles.
I took images in low light and was pleased with them. Remember that flash in certain situations is frowned on. However images with flash were also good and while having to manually raise the flash may initially not give you the result you want it does make you think about composing the shot rather than just pointing and shooting.
While this is a digital camera and not a movie camera it can take rather good movies – as can most modern cameras – certainly a lot better than most mobile phones.
The GE G100 is available from PCWorld or Currys for £129.99 with free delivery.
http://www.pcworld.co.uk/gbuk/ge-power-pro-series-g100-compact-digital-camera-black-12224382-pdt.html
http://www.general-imaging.co.uk/our-cameras/power-pro-series/g100.html