Epson PX830 MFU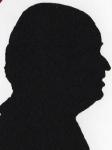 Review controls
A multi function unit as it has Fax, when I speak with manufacturers they still claim there is demand, my findings are somewhat different, this is rather like the PX730 recently reviewed but this is black rather than cream.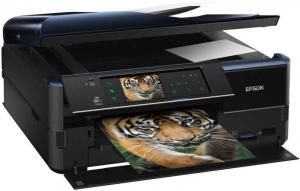 click image to enlarge
The Epson PX830 MFU measures 44x50x20cm the rather large depth figure is solely because of the built in Duplex that adds to the depth, the colour may put some off but if it resides in a cupboard then it need not be seen. The wireless option works very well.
The whole control panel 30x8cm flips from vertical to horizontal hinging on the top so is viewable from any angle.
With the exception of the on/off button which is to the left of the huge 21x6cm screen everything is controlled by touch.
Power enters back left and Ethernet or USB –should you use either- enter back right of the unit. Card ports are to the right of the paper input/output trays behind a small 6cm flip down lid that runs across the whole width of this MFU device.
After removing the packaging and transportation tape you need to insert the six inks that fit behind a door at the right front. Switch on and once you have selected language and set the time and date you are offered three ways to connect by Wi-Fi.
Should you not choose Wi-Fi then towards the end of the twenty five minute sequential install choose Ethernet or USB. Once everything else is finished you get a chance to install Fax, this will fail without a phone line connected.
Printing was rapid and 30PPM was reached printing the nonsensical 200 word document. Printing the more normal 1500 word document (spread over four pages) came in only slightly slower at 27PPM, both a little grey. However printing using 'Text' rather than 'Draft' produced nice sharp black print and was still in the 20's.
Printing A4 borderless photos took just two minutes but almost half of that was thinking time by the PC which says 'printed' before it sends to the unit. Smaller sizes can be printed in a tray above the main paper tray but either way insert printing side down or you have an ink mess that never dries, pages emerge just above face up.
Copying an A4 monochrome image took 15seconds and a colour one only slightly longer at 20seconds. From the front screen you have basic options like colour/black & white, Density on a slider bar, Plain Paper or options, Actual Size or reduction and enlargement and of course number of copies. A nice feature is that a few seconds after you have completed your copies it beeps at you if you have forgotten to remove the original from the flatbed. There is also an ADF which when not in use folds done so it appears not to be there.
Scanning can be done from either the unit or the PC but I found it worked better when initiated from the PC as when you do it from the unit it sometimes fails to locate the Epson Scan module. This has three modes Home, Office and Professional and the options vary but a greyscale image scans in around 15seconds with default settings.
The other software is worth a mention, Print CD is a nice option but do use the correct CD's or you end up with a mess that never dries. Epson Easy Photo Print is exactly that and was the first software that I remember that allowed you top print four near 15x10cm images on a single sheet. It is easy to use even if you are a novice.
Doing my searches found the Epson PX830 at a best price of £182.56 with free delivery.
http://www.amazon.co.uk/gp/product/B005VYKZ3W?ie=UTF8&tag=gadge0a-21&linkCode=as2&camp=1634
http://www.epson.co.uk/Store/Printers-and-All-in-Ones/Epson-Stylus-Photo-PX830FWD/Overview