Epson A3+ multifunction WF7715DWF

Review controls
The Epson WF7715DWF is a versatile A3+ multi-function inkjet that will meet the needs of the majority of small offices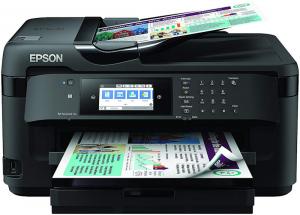 click image to enlarge
Although A4 is the basic office norm there are occasions when being able to handle A3 would prove to be useful. For example one could work with larger spreadsheets as well as printing two A4 pages onto each A3 sheet and then fold to make a booklet which is much more business-like that separate A4 pages.
Being A3+ with an automatic document feeder (ADF) it can be appreciated that this machine, while suitable for the smaller office, may not fit into the smallest one. Its basic dimensions are about 56cm wide and, at its minimum, about 46cm deep. This extends to over 80cm when the single sheet feed at the rear of the machine is open, the paper tray projecting to the front when A3 paper loaded, and the paper catcher is extended at the front. Similarly, even though it is only about 33cm high to the top of the ADF, it needs a total of 60cm when the top is raised to fit new ink cartridges or to place a document on the glass platen. Furthermore, as it weighs around 20kg it really takes two people to move it around.
For convenience, and to avoid having long cables around the place, in the office I ran the machine on WiFi even though it also has Ethernet, USB and WiFi Direct among its other options. For mobile users there are Epson Connect, Apple AirPrint and Google Cloud Print.
The layout of the machine is conventional with both paper input and output at the front. Paper guides in the input tray, which can accommodate up to 250 sheets (of ordinary grades of paper), can be adjusted from the largest down to the small photo sizes. The largest size that can be accommodated is A3+ (also known as Super A3) which is 330 x 483cm.
The control panel with its colour touchscreen LCD display and keypad etc. is at the front of the machine and is hinged so that it can be swung up to a convenient viewing angle.
Loading paper, and changing paper sizes, was straightforward even though I sometimes had to lift the paper catcher just a fraction to prevent it "catching" and so allow the paper tray to be inserted fully. Both the cassette and the single sheet feeder handle both single and double-sided printing without any problems.
Although Epson quotes A4 printing speeds of 32 and 20 pages/min for monochrome and colour respectively, for comparison purposes, it is more appropriate to use the ISO/IEC 24734 printing speeds of 18 and 10 pages/min mono and colour respectively. The equivalent duplex speeds are 8.7 and 6 pages/min. Print quality all round was very satisfactory.
Epson offers both standard and larger capacity ink cartridges for this machine. Again using ISO methodology the yields have been calculated at approximately 300 and 1100 pages for the standard and larger capacity cartridges respectively. There is also an 2200 page extra-large capacity black cartridge which will prove a cost-effective option for many users.
Using the touchscreen display a very good range of copying facilities via either the flatbed platen or the ADF are provided. In addition to being able to choose between colour and B&W there are a range of enlargement and reductions options. When making double-sided copies "binding-edge" was a further option that was available. By the way, even when doing a single, simple, copy it was generally quicker and easier just to load the original via the ADF rather than having to lift the top of the machine and place the original on the glass platen.
Using the scanner which has a maximum resolution of 1,200 x 2,400 dpi horizontal and vertical was straightforward both for documents and photos and one can choose from destinations which include email, computer, memory and cloud. However, even though Presto! PageManager was supplied with the machine, I preferred to continue to use my regular software. For example, using the current version of Abbyy Finereader from the computer I was able to set up to scan and automatically recognise double-sided documents loaded into the ADF. Here, by the way, Epson claims that up to about 35 documents can be loaded into the ADF.
I have been unable to review the fax facility on the machine as Epson do not provide a suitable cable for the WF7715 in the UK. This, I believe, is because fax has to a large extent been superseded by email in the UK even though it is still widely used in many other parts of the world where this machine is sold. However, if a user did actually need for a fax facility, as mentioned above, one of the options available is scanning to fax.
At the time of publication the Epson WF7715 is available on Amazon £187.31. This multi-function inkjet which, as well as supporting the larger paper sizes, is easy to use and has a range of facilities which will enable additional tasks to be handled conveniently in house and so prove to be a useful productivity aid in the office.