TV for your Tablet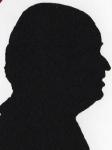 Review controls
I received this unit four months ago only to find nothing I had was compatible. I consulted the list and eventually I got something that worked with it; ironically this was the first iPad to pass over my desk, me being a confirmed Android person.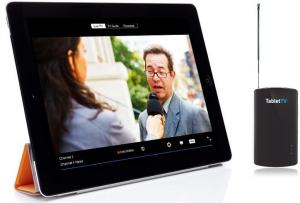 click image to enlarge
The TabletTV portable tuner has been designed for use when you are out and about. On first use you have to answer that you are in possession of a UK TV Licence. It consists of a 9x5x1cm box that has a tiny three piece 15cm rod aerial at one end, the other end has a micro USB port to charge the units battery, there is a micro USB to USB cable supplied.
Also in the box is an eight sided Quick Start Guide but assuming your Tablet supports the TabletTV then this is almost redundant as the on screen instructions are the same.
First insert the solid battery into the unit and connect the micro USB to USB cable to charge it. Once charged download the App from either the Apple or Android Store. If your device does not support it then the software will not load so CHECK BEFORE BUYING.
There are three LEDs on the top of the unit all are explained in the Guide. Like a number of recent Wi-Fi products it has its own Wi-Fi which you need to link to and having done it then link to your normal Wi-Fi again for normal Tablet use.
This uses normal over the air Freeview signals to view TV, a program guide so you can set it to record and lastly the ability to play recorded TV. This last feature means you can watch recorded TV anywhere even on the Tube.
I did my initial tune indoors in an area well away from any Windows – against the Guides advice – and got a total of 44 channels some of which were encrypted so not available. All the major channels seemed to be available with the exception of the BBC ones.
From this position I recorded programs and was able to watch them back.
I then ventured to my back door and retuned and got 138 channels including all the BBC ones and for a tiny 15cm rod aerial I think this is very good, of course Freeview reception varies according to where you are but I was pleasantly surprised.
If these are regular places you visit each can be saved with a different name to save the time taken for a complete channel retune.
It would have been nice to have the ability to connect a standard aerial but the sheer lack of size means this is not possible, this would mean that say a mini-series could be recorded and then replayed over a holiday period when on the beach etc.
I will return to my first point unless your tablet is on the list of products supported it will not work, the list I was sent is:- for iOS Devices TabletTV apps work with all Apple iPads except for the first generation iPad 1s. Compatible iOS tablets are listed below:
iPad Air 2
iPad Air 2 Wi-Fi + Cellular
iPad mini 3
iPad mini 3 Wi-Fi + Cellular
iPad Air
iPad Air Wi-Fi + Cellular
iPad Air Wi-Fi + Cellular (TD-LTE)
iPad mini 2
iPad mini 2 Wi-Fi + Cellular
iPad mini 2 Wi-Fi + Cellular (TD-LTE)
iPad (4th generation)
iPad (4th generation) Wi-Fi + Cellular
iPad (4th generation) Wi-Fi + Cellular (MM)
iPad mini
iPad mini Wi-Fi + Cellular
iPad mini Wi-Fi + Cellular (MM)
iPad (3rd generation)
iPad (3rd generation) Wi-Fi + Cellular
iPad (3rd generation) Wi-Fi + Cellular (VZ)
iPad 2
iPad 2 Wi-Fi + 3G (GSM model)
iPad 2 Wi-Fi + 3G (CDMA model)
For Android it's a smaller list The TabletTV app works with all Large and Extra Large tablets (devices with screens ranging from 7" to 12.2") using the Android operating system. This covers over 2,000 compatible devices. Some of the most popular models are listed below.
Samsung Galaxy Note 10.1
Samsung Galaxy Note 10.1 2014 Edition
Samsung Galaxy Tab 10.1– GT-P7500
Samsung Galaxy Tab 10.1– GT-P7510
Samsung Galaxy Tab Pro 8.4
Samsung Galaxy Tab Pro 10.1
Samsung Galaxy Tab Pro 10.1 Chef Collection
Samsung Galaxy Tab2 10.1
Samsung Galaxy Tab3 10.1
Samsung Galaxy Tab4
Samsung Galaxy Tab4 10.0
Samsung Galaxy Tab4 10.1
Samsung Galaxy Tab4 Nook 10.1
Samsung Galaxy TabS 8.4
Samsung Galaxy Tab 8.9– GT-P7300
Sony Xperia Z2
Google Nexus 9 (UK)
Google Nexus 10 (US)
The Tablet TV Portable Tuner is available from the link below for £63.94 with free delivery:
http://www.amazon.co.uk/gp/product/B00PQSROXM?ie=UTF8&tag=gadge0a-21&linkCode=as2&camp=1634