Ultra Slim DTV recorder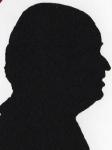 Having reviewed TV recording devices from early VHS tape devices through most other methods including those using external memory sticks and hard drives this still came as a shock because of the unit's sheer lack of size.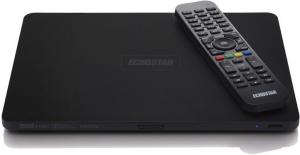 click image to enlarge
This is a Freeview + HD box with a 500GB recording unit inside and the quality to include Dolby Digital Plus sound.
It is 27x20x1cm, yes the thickness is just one centimetre. With cables inserted in the rear the depth becomes 25cm.
You are totally reliant on the remote control as the unit itself has a single on/standby button with an LED beside it.
The rear is where the connections are, Aerial Out, Aerial In, HDMI out, Ethernet, two USB and finally the DC input.
The remote has 48 keys all are well marked and their job should be obvious. There is a rather good printed Quick Start Guide of eight sides and each deals with a topic. Connections, Setup, Getting Started, Making Recordings, Using the Remote and Remote Control Programming, all are well illustrated and the remote has a full size one.
I suspect this unit could go under your TV as it made out of steel and very solid, as it is so small this probably will not work so a shelf is the more likely repository.
Basic setup is to connect your aerial, plug in the power, and connect the supplied HDMI lead before switching the TV on. Make sure you are tuned to that HDMI channel and then follow the onscreen prompts to tune in.
If you have had a Freeview unit before then up till now everything has been much the same, the final bits will differ but still they are all explained in the well illustrated Quick Start Guide and you should be able to start recording.
As with most such units you can record two channels and watch a recorded program at the same time. Using the passthrough it should be possible to watch TV with the unit in 'low power standby' but this will depend on the strength of your signal. There is another mode 'standby' that provides power to the passthrough but of course it does consume some power.
The recordings I have made have all been perfect and the way they are described in the Library are better than most.
You have Digital Text and most will know what the Red, Green, Yellow and Blue buttons do on the remote, however they have other jobs dependant on where you are and what you are doing, again well described in the Quick Start Guide.
This is more than just a Freeview box as it will with the aid of an Ethernet cable turn it into a Smart TV with access to the Internet and things like Twitter and other social media sites, so this is an option to purchasing a Smart TV.
Overall a decent image to the TV, a nice Library module, an OK TV Guide and a remote that does it all. However do not lose the remote as without it you are totally 'knackered'. My only slight concern is the overall small size of the unit.
Doing my searches found the Echostar Ultra Slim Box HDT-610R at a best price of £193.49
http://www.amazon.co.uk/gp/product/B007ZYL5ZI?ie=UTF8&tag=gadge0a-21&linkCode=as2&camp=1634