Eminent HD Media Player EM7280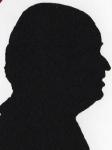 Review controls
This box connects to your TV via an HDMI lead. Then the box connects to your network. The box itself can also have a hard disc or just stream content. It can also attach other hard discs with content or USB sticks to play music or video.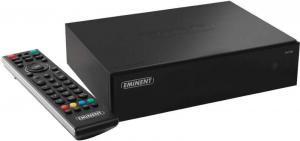 click image to enlarge
The box is 22x16x6cm but you need to allow up to another 5cm to the 16cm depth for the attachment of various cables.
The top, sides and base are all smooth while the face has one small blue LED when the unit is on. All the connections are at the back. These are in a line, DC input, USB2 (host), USB3 (client), HDMI, Ethernet, Coaxial, Audio out left, Video, Audio out right (these last four in two rows of two) and finally Optical.
So what items are supplied, the box either with or without a hard disc, power adapter, remote control, batteries for remote control, 1metre USB3 cable, 1.5metre HDMI cable, 1.5metre CVBS cable, 1.5 metre Optical cable and a CD with multi language manual. There is also a Quick Install sheet of six sides that should get you up and running.
If your TV does not have HDMI you can use Component. The one thing not supplied in the box is an Ethernet cable.
The front screen of the boxs software shows six icons in a wheel shape all controlled by the supplied remote control (remember to point it at the box and not the TV), the illustrations are quite clear but there is also a line of names along the bottom of the screen that correspond to the six icons. They are Photos, Movies, Music, Manager, Setup and Apps. Select one and then delve into the content in that area, with work all content of that type can be drawn together.
Setting up with an Ethernet cable I found to be easy for both DNS and non DNS. Although there is an option on the menu for Wireless – and I do have wireless well within range – I never managed to connect with this method.
The newest part is the Appcenter and I found 14 apps at the time that appeared to be working correctly although these are still technically in BETA. So if you are addicted to You Tube, Flickr or others you can get your fix here. One app I liked that worked well was something called SHOUTcast radio that streamed without problem. To give you some idea of the size there are over two hundred Genre before you get to the actual station level.
You can hang a DVD or Blu-ray player off the USB port and this plays DVD's without problem but it refused to play Blu-rays.
The hardest thing was getting my XP system to work with it. Windows 7 was no problem but I spent far too long getting it to see my XP unit, as I did succeed in the end I suspect this was an XP problem and not an Eminent one.
While the boxs front end looks friendly I have my doubts and a novice would probably say it will not do what I want it to and return it. It will probably do most things but 'RTFM' is now a dirty word and you do need to 'RTFM' when you cannot get it to do what you want. Someone who is familiar with UPNP will find things easier. The Manager has a basic three devices HDD (assuming there is one), Network and UPNP with
DVD added when have one fitted, while this can be hot swapped you need to back up a couple of levels for it to be seen.
If you want to be able to play all your content from your TV then this may well be able to fulfil your requirements. However if some of it is on Windows XP then expect problems, the other problems are more easily surmountable. As supplied available from the first link below for £149.99 including free delivery.
http://www.amazon.co.uk/gp/product/B005PU9WOA?ie=UTF8&tag=gadge0a-21&linkCode=as2&camp=1634
http://www.eminent-online.com/en/product/954/em7280-hdmediak.html