View 21 PVR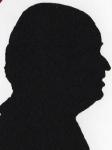 Review controls
While all of the UK has now gone Digital there are a significant number managing on a simple device to import and view the signal, a lot are discovering that their video recorder now just does not function anymore.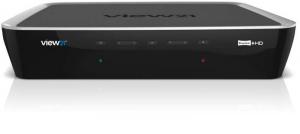 click image to enlarge
So here is a small box that not only imports the signals it allows you to record two at once and even has a working pass though that can watch any digital TV using the same single aerial signal and if that is not enough it has an Ethernet connection so that lots of things like iPlayer and other such things are all available on your TV.
The box is 31x28x5cm the middle figure the depth is with all relevant leads plugged into the rear of the View 21.
While control is possible from the box – there are seven buttons on the front - it is a lot easier using the supplied 45 key remote control to do everything from your chair. Below the buttons are various LEDs but no clock.
The rear has aerial in, aerial out, Ethernet, HDMI out, two SCART connectors and DC input to complete the connections.
When you first switch on with your aerial plugged in and ideally the supplied HDMI cable plugged between the unit and your TV you will see a welcome screen that starts a four point process, if you do not set a parental code all you need to do is press OK four times when instructed to on the remote control, I found the whole process took around six minutes. This included the channel search that finds 97 TV channels and 24 Radio channels.
Should your TV not be HD then you would only find 93 TV channels in my area. I should explain that not all those TV channels are TV some are DATA only and also a good number are channels that either broadcast for a very limited time or are scrambled signals for premium services. Doing a run through found 45 viewable channels in the morning 46 in the afternoon and 49 in early evening, I did not do an after midnight check.
Not only can this box be used to view Freeview + HD TV but also connect to the Internet via an Ethernet connection, so things like iPlayer, ITV Player and Channel 4 OD are all available to watch from your arm chair.
There is an eight side Quick Start Guide that should be all most need to get up and running. A 52 page USER Guide gives more details and explains how to get the best from the View21. However should you have an 'i' device you can watch TV wirelessly on an App available for the View 21 device. You can even watch a different channel in a different room using your 'i' device, I have seen this on an iPad and it works rather well.
The on screen guide used to select items to record is one of the better ones I have used but you can also program from your 'i' device. For the vast majority who own Android devices I am told that a similar thing should be available soon. Of course the 'wireless' option requires that you have your TV plugged into your Ethernet.
If like me you turn the unit to standby the pass through still works, the internal clock turns on at just prior to the correct time to power the unit to enable recording, as far as returning from standby I found it took close to a minute to be fully functioning to provide signals to view or to do the other things that the unit does. The Library module named the recorded program and shows recorded or watched or partially watched the last a nice feature.
The View21 is available from the link below for £199.99 with free delivery.
http://www.amazon.co.uk/gp/product/B00934ZZ68?ie=UTF8&tag=gadge0a-21&linkCode=as2&camp=1634