cenOmax 7inch Photo Frame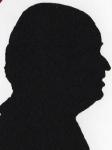 Review controls
This is a 7inch offering from the people who I recently told you about a 3.5inch photo frame (21-09-08) this is a unit that offers the ability to play MP3 files while viewing images and even possible to view movies.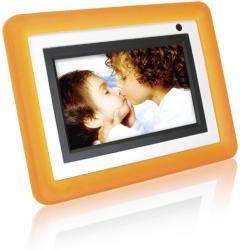 click image to enlarge
While this looks like a fairly conventional photo frame with a cream inner border and a clear Perspex outer one it is also supplied with a couple of sleeves black and orange, these clip over the clear Perspex to give a total of three totally different looks.
It is 24x17.5x3.5cm the inner display screen is 15.5x8.5cm giving the notional 7inch diagonal screen measurement. This is actually a wide screen display but of course most people's photos are not. You can either display them correctly with a black border at either side or have them stretched slightly to show full screen. However if something is near the sides or top then it can look rather strange.
It is possible to rotate images but you will not often have time for this to take effect unless you have set a long display time for each image.
On the back of the unit are seven buttons that can do most actions, three of the buttons have dual jobs implemented when pushing a second button at the same time. The right side has inputs for either a Memory Stick or SD/MMC card, USB input and the A/C adapter input. The left side has an input for Compact Flash but not the slightly larger Micro Drives and a volume control.
The frame can be hung either landscape or portrait via screw receptors. There is also a prop that also rotates to support the unit in either orientation. However cenOmax also supply a ten button remote control that can be useful when you manually show images and this is the only way I could find to zoom into an image.
Pressing the menu button on either the unit or the remote takes you to screen with six choices. Photo, Audio, Video, Calendar, Clock and Settings. I found that it liked to go to Slide Show Mode and often getting it out of that mode somewhat difficult. Little can be done in Photo mode except view from the selected source. This can only be changed from the source button on the remote. You cannot have music on one card source and photos on another. Certain audio tracks can be selected but the default is to play them through from those provided. I found video rather hit and miss, I gave it some .avi files and it would play the sounds but not play the movie on screen. With .mov files it played the movie but with no sound saying it was missing an audio codec. Calendar produced a surprise this unit was new but the date was correct. However clock was wrong and while you can set an alarm from the clock menu you cannot adjust it from there. In fact almost all adjustments are made from the Settings screen.
There is a manual with the first twelve pages in English however I found out most things by trial and error. Certainly plenty of errors when trying to get it to exit from slide show mode. Once in browse mode then you can adjust things and even get it to save image rotations.
By far the easiest is to only give it images taken in portrait or landscape and make sure that the display is in that orientation. Images can be transferred to its internal memory by using a USB connection to a PC or single images can be transferred to internal memory by using the copy option. When copying make sure the orientation is correct as the rotate command seems to have no effect on images in internal memory. The delete option only works on images stored in internal memory.
I also found that a range of other options were not available when running with Internal memory. While it is a nice looking frame with good sound quality from a rear speaker I have my doubts about being able to change modes when you want to. Often even though it says browse mode on the screen it still is in screen show mode. Once in browse mode it allows you to adjust images but all to easily you are returned to screen show mode.
The cenOmax 7inch frame is available from the link below at £40.99 but it is wrongly described as 7.5inch onthat site.
http://www.amazon.co.uk/gp/product/B000Y0XOVI?ie=UTF8&tag=gadge0a-21&linkCode=as2&camp=1634