Kodak Pulse 10 inch digital picture frame

Published Nov 23, 2010 Author
petew
Review controls
It's about a year since I last looked at a digital photo frame. The latest incarnation from Kodak has a number of excellent innovations that make loading your images that much easier and at the same time provide a marked improvement in the screen.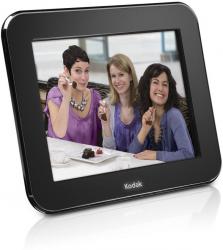 click image to enlarge
While a year or so ago a 7" screen was often the norm and a premium would get you an extra inch the Kodak Pulse provides a bright clear 10" LED backlit display. The screen is bordered by a modest black surround about an inch deep. The device includes an integral stand holding the display at about 85°. All configuration of the device is accomplished through the touch-sensitive screen - resulting in an almost button free product.
One of the key differentiators of this product is it's wireless networking and Internet capabilities. While the product can accept and display images in the traditional way from various memory cards formats a more interesting option is to use Kodak's Pulse website. During the setup process, assuming the frame succcessfully discovers your Wifi connection, you are told to go to the pulse website (http://www.kodakpulse.com) and create an account. Once you've done this and followed the confirmation steps the picture frame tells you it's 'activation code' - you enter this and your frame is automatically linked to your account. This is where the fun starts!
Rather than muck around with memory cards you can now add images to your picture frame directly from your laptop. Apart from the ease of use this presents it also allows you to remotely add images while away and have them magically appear on the frame. So for example if you've escaped the family for a few days skiing you can add glorious Apline landscapes to your picture frame at home so you family can instantly see how much fun you're having!
The upload process does have a few rough edges which I hope will be removed in later releases. Kodak have decided to go with a Java applet to provide the file interface rather than the more popular Flash techonolgy. While this is adequate it is a little slow starting and not as sleek as many flash based file loaders. I'd also love the interface to allow you to rotate images 90° as part of the upload - a useful add on if you are on a mountain with no suitable image editing software!
From your Kodak Pulse account you can see which images you have on the device, remove ones you don't want and add new ones. You can also change the device settings - all by remote control.
Recognising the popularity with many people for social networking sites and Facebook in particular Kodak have added an option to automatically add on-line images to your photo frame. Two options are given - either to link with your Facebook account or to use a Kodak Gallery. I tried the Facebook option. Once you've given Facebook permissions to the Kodak application it automatically monitors facebook for images you add and images in which you are tagged. Those it detects are automatically copied to the frame. Trying this out - 98 images were downloaded to my Kodak Pulse. This option could well be quite scary for some people!
Ever conscious of the carbon footprint our gadgets leave I was very pleased to see that the Kodak Pulse is Energy Star compliant. You can also specify a 'start time' and 'end time' during the day allowing the system to automatically go to standby when everyone is tucked up in bed.
Last Christmas I gave my parents a photo frame. Of course as a gift it's a little uninspiring straight from the box. The beauty was preloading it with a carefully selected set of images of my kids from babies to teenagers. The Kodak Pulse online capability adds a nice twist to this scenario. By printing the activation code on the outside of the box you can use the web-site to 'preload' the device with those precious family memories without having to remove it from the packaging. As soon as the recipient connects the frame to the Internet for the first time the photos you loaded are automatically downloaded - magic!
Checking Amazon I see the 10" Kodak Pulse Digital Picture Frame is available for £153.29 including free delivery.