Hannspree 8 inch Digital Photo Frame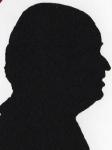 Not another Photo Frame, well yes and err no. Yes it is a Photo Frame from a name known for their panels but I doubt anyone would initially recognise the unit as it comes built into a stuffed toy, mine was a Polar Bear.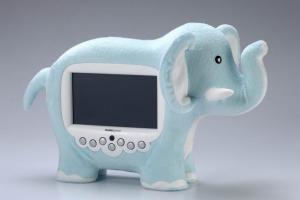 This Hannspree digital photo frame is 43cm from tail to the end of its nose. 30cm tall to the top of its head and a maximum of 9cm wide. It weights 1.5kilos.
The screen fits into the body and its legs support it, the viewable screen area is 17.5x10cm giving the 8inch diagonal measurement.
Before I talk about the screen I wonder if this is meant to be a toy or a talking point. If a toy then well…. If a talking point it certainly is, there are other animals in the range but this one to me is the most realistic looking.
It can be controlled either by the seven buttons under the screen or by remote control. There is an instruction manual with 26 pages in English.
Files can be photos, videos and or music as the back of the unit has quite good speakers. The source of the files can be internal (default), SD card or memory stick.
The file types supported are JPEG for photos, MPEG-1, MPEG-2 and MPEG-4 for video with some exceptions, the music it is MP3 and any music files you wish to play must be in the same folder as the images.
It is possible to set it up to display a monthly calendar (however time and date only remain all the time power is connected to the unit. They can look nice and there is a space to display an image of your choosing in the calendar.
Most people will use it as a Photo Frame to display still images and you can select and rotate images to use in your screenshow, there is of course an array of transitions that can be used and with the right images music goes well. Others will want to display just one image for a longer time.
With an 8inch videos are watchable but you do need to be fairly close and remember not all videos – even within the criteria above – will play. Those recorded at less than 30FPS are certainly vulnerable to unusual results. If it plays your videos all well and good but it really a photo frame that also plays MP3 and might play your videos.
It is supplied with a few images in internal memory (64MB) and using the products file manager it is possible to add to or delete these internal images. If your using the machine in a shared area it might be good to copy the display to internal memory as otherwise the card or stick might well go 'for walkies' when at the very least this is a pain.
The manual seems to cover both 8inch and 10inch versions however I have only seem the 8inch offing from Hannspree.
The remote control is 8.5x4x1cm and has 18 well defined touch buttons that as far as I can tell does everything.
Doing my searches found the 8inch Polar Bear Frame at a best price of £99 from the following number 0871 666 0850. Also available as a Giraffe, Elephant or a Panda.
However the 8inch photo frame (not built into the animal) costs only £49.99 model number SD8073 using the same phone number.