PanDigital Photo Frame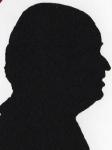 Review controls
Photo Frames have evolved, now they have multiple image inputs, the ability to play music, screen show formats that do not make you sick and this latest offering from Pandigital even has the ability to match your décor.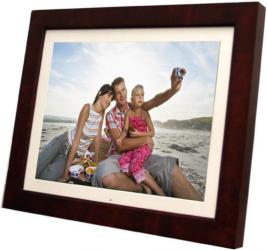 The total outside measurement of the frame is 29.5x25.5x3.5cm without rear support. However this maybe somewhat confusing as the image size is 16x12cm (8 inches). You are supplied with various screen surround blanks or you can extract the unit from the outer frame to use as a Perspex unit so as stated you can change it to suit your surroundings.
Of course it has a remote control of twelve buttons but I found you could do everything without it by using the five buttons hidden behind the frame and, or, the screen itself that is totally touchscreen. If you wish the remote can be stored behind the unit in a magnetised area that keeps it available and less likely that the dog will eat it.
There is a Quick Start guide but do look around the unit first as it forgets to tell you where the on/off switch is so without this knowledge you could go through the numbered items wondering why you are not seeing the inbuilt demo images.
There is a User Guide but it is on CD-ROM and as there is no reason why you need a PC some may never find the full features available. Why the manual is not printed can only be cost as the Quick Start guide is in six languages printing six manuals is expensive and of course will add to the total weight of the overall product.
So you can display images that you copy to the internal memory, or from external sources such as a USB stick, SD/MMC, Sony Memory Stick, xD, Compact Flash (including Micro Drives) and even direct from a camera via the supplied mini USB lead (assuming your camera supports Pict Bridge). Finally it even supports Wireless (via a USB Wi-Fi adapter) but not wired Ethernet.
It can also play MP3 files and just for good measure even some movie formats are supported with or course sound.
The second level of 'menu' has ten icons, select media source that allows you to select the card type etc and even allows you to store in various folders such as family, vacation, friends, event and others. The second is wi-fi network setup. Number three is slideshow setup. Options are music, transition, interval, shuffle, current time display and display photo information. Next is to adjust screen colours that toggles between brightness, contrast, tint and colour settings. Optimal Image Display is the next icon. Then its Photo Import method. Select sleep mode is next. After all these choices the next option is probably required Reset to Factory defaults. Set Language is the penultimate choice and finally Calibrate Touch Sensors this is a totally automatic process.
On the first menu level one option is clock that not only displays time but date and even a monthly calendar but still displays a 10x6cm slide show during this display. With a good range of images this can look very good. The second option on the first screen is Recipes yes sounds strange but if you have it in the kitchen why not. The third choice is Wi-Fi giving another way to select the Wi-Fi adapter. This top level of menu also allows you to choose, picture, music or movie.
Lots of choices of how and what to display and perhaps from the ladies point of view varying screen surrounds to suit the décor.
Doing my Internet searches found the Pandigital 8 inch Digital Photo Frame at a best price of $99 from the link below.