Storing and Accessing Data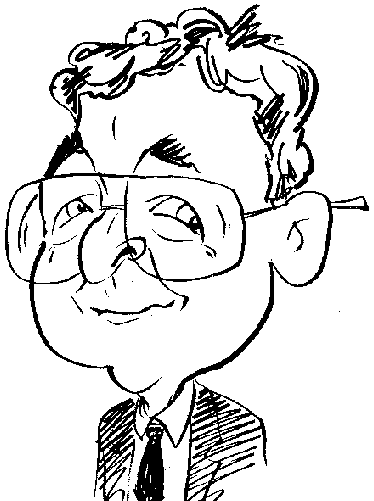 Review controls
As our personal store of data grows so does our need to access it from various locations. This next product offers a solution.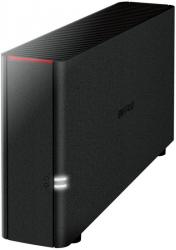 click image to enlarge
The Buffalo LinkStation 210 is a single drive network storage device. Offering a capacity of 2TB, the LinkStation 210 provides the user with the means to create their own personal cloud along with the ability to store, organise and back up data. Provided with the external drive unit, this kit contains a power lead with both two and three pin adaptors, flat style Ethernet lead, software disc and various items of documentation.
Designed to stand in an upright position, the drive unit is encased within a protective cover that is predominately black apart from a small red strip along the front of the unit. The LinkStation 210 has dimensions of 130 x 205 x 45mm (H x D x W) and weighs 1.1kg. Running along the top of the unit are a series of cross slats helping ensure that there is some ventilation for the drive. Connections for mains power, Gigabyte Ethernet and USB 2.0 are arranged along the rear of the unit. Here you will also find the on/off switch for the device. Power and activity lights are positioned on the front where they are clearly visible to the user.
Buffalo claims that the set up procedure for this product is easy and, apart from one slight problem, I have to agree that the process is simple and straightforward. After making the necessary connections to a power source and a router, you can move on to installing the supplied software on the CD. Following a quick automatic set up, you can cherry pick from the available software items that come with this product.
These items are made up of NAS Navigator 2, NovaBACKUP, User Manual and Adobe Reader. The NAS Navigator 2 software allows you to make adjustments to your LinkStation 210, view its content and general properties as you set a password, create shared folders and apply any access restrictions you feel are necessary for web access and other users. With NovaBACKUP you get five licenses for carrying out backup and restore tasks that can be carried out immediately or on a user-specified schedule.
The LinkStation 210 comes with various connectivity options. You get a Twonky server, DLNA server and it can also be used in conjunction with an iTunes server to stream appropriate content to multiple devices. Apps can be downloaded for both Apple and Android devices. These apps will allow you to access content on the LinkStation 210 remotely. It was at this point that I encountered a hiccup with regards to the setting up of this kit.
There are two apps, namely SmartPhone Navigator and WebAccess, for downloading from the appropriate store. When you run the SmartPhone Navigator app it is meant to identify and log on to the LinkStation 210 NAS device but this never happened. I just received a message that I needed to check whether my Android device was logged on to the correct Wi-Fi network – it was but I still could not get a connection. However the WebAccess app has no difficulty in identifying the LinkStation 210 NAS. I was able to access its content. I could display documents, watch videos and listen to the music stored on the LinkStation 210 remotely using an Android device.
As mentioned earlier, the LinkStation 210 comes with NovaBACKUP software (five licenses). A tabbed interface allows the user to quickly switch between topics that include copy, backup, restore, schedule and home. The latter area offers you a choice of Express Wizard, Disaster Recovery and Cloud Backup with options to run a job, open a job, import media and add a network device. The NovaBACKUP software is fairly easy to use and can, depending upon the type of content, make a reasonable saving with regards to storage space to help compensate for the extra time taken up by the process.
Running a series of backup jobs using the standard default settings, I recorded the amount of data, time required and the size of the resulting file created for each backup. I then transferred the same data from its original location on an internal hard drive to the LinkStation 210 using the standard copy & paste method. Again timings were taken for the transfer of data made up of 4.29GB of document files and just over 90GB of music and video content.
While there was only a minor saving with the backup of the documents, the music and video file saving was far more substantial at over 60% which was a fair exchange for the 14.5 minutes of additional time required to complete the backup. The actual figures are listed in the table below.
Back up and Copy & Paste Timings

| | Original Size | Items | Backup Time | Copy & Paste |
| --- | --- | --- | --- | --- |
| Documents | 4.29GB | 2036 | 5 min 2 sec | 5 min 0 sec |
| Video | 59.14GB | 117 | 39 min 58 sec | 34 min 27 sec |
| Music | 31.03GB | 10146 | 29 min 32 sec | 25 min 06 sec |
Total space required for the various backup was 34.74GB with the Copy & Paste method required 94.46GB. Currently this product was listed on Amazon at £101.24 reduced from £129.99. Powered by a Marvell ARMADA 370 ARM CPU running at 800MHZ with 256MB of DDR3 memory, this product will run on a Windows XP and later system or Mac OS 10.3.9 and later.
http://www.buffalo-technology.com/en/products/storage-devices/consumer-nas/linkstationtm/ls210d-eu-linkstationtm-210-series/