Ravensburger Puzzle and Puzzle Storage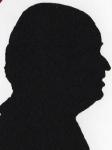 Two items from Ravensburger, first a puzzle – what they are best known for – but it has rather unusual twist in its look. Second something most puzzle fiends will require a unit that allows a part finished puzzle to be stored away.
Ravensburger Star Line 14 929 2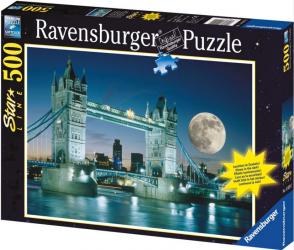 click image to enlarge
On the face of it his 500 piece puzzle would not be a great test of the more expienced puzzler, the first problem is the subject its Tower Bridge at Night so there is a great deal of blue grey and black, however there is another twist.
It glows in the dark so the finished item is quite likely to need to be displayed possibly behind glass as a picture.
When completed – I am no expert – but I found this 500 piece puzzle harder than a lot of larger puzzles mainly because of the limited colour palette as it was a night image albeit with a full moon low in the night sky.
All recent Ravensburger offerings have the 'soft click' technology meaning the fit of pieces is perfect and precise.
The size of this puzzle is 49x36cm (just over 19x14inches) so it is a rather nice size to frame and then display on a wall, the glow in the dark effect is good laid flat but even better with non reflective glass on a wall.
As the image already is reflective with lights from the bridge, the buildings nearby and reflections from the water the overall effect is brilliant, as this is the only glow in the dark offering I have reviewed I cannot be sure how well it would work with other puzzles. I suspect the selection of the image will be vital, maybe a Halloween setting?
Tower Bridge London is available from the link below for £6.99
http://www.mailorderexpress.com/Ravensburger_Tower_Bridge_London_500_Piece_Puzzle.asp
http://www.ravensburger.de/shop/puzzles/erwachsenenpuzzle/towerbridge-london-14929/index.html
Puzzle Store 17 949 7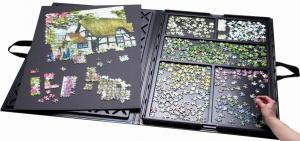 click image to enlarge
Not a puzzle but a place to keep a part completed one, even if you have the space to leave a puzzle out it can still get knocked.
The puzzle store is 76x56x2.5cm big enough to keep a 1000 piece puzzle safely stored even from the dreaded knock.
You have a case with handle that has a hinged landscape action, a flat board fits tightly inside while the other side has five sections, two 33x23cm (above each other) one full height 48x16cm and then two more 23x15cm (above each other) so you have five possible places to keep sub sections of the pieces by colour or design.
This is big but the puzzle addict will want one to fit even bigger (up to 5000 piece) puzzles as these really are the long term ones. The maximum size of puzzle that is build able on the internal board is 70x50cm (27x20 inches)
It does hold a puzzle in place even when stored on its edge as it locks tightly and the board fits snugly over the storage sections. Lots of people have a corner where this board could sit; few have a spare table that can store puzzles for days or weeks on end. For the puzzle doer in a family (especially with young children) this is perfect.
The Ravensburger Puzzle Store is available from the link below for £24.99
http://www.mailorderexpress.com/cgi/pfind.pl?BPC%3D10/TOK%3D1/IMG%3D1/PB%3D1/PSRT%3Dnull/query_string%3DMOE 151731/page%3Dresults.html
http://www.ravensburger.com/united_kingdom/home/puzzle_store/index.html