Ravensburger Jigsaws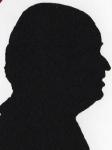 Perhaps what Ravensberger are best known for in the toy and games market is Jigsaws and here I am looking at two such offerings. To me two things matter the quality of the image and the quality of the pieces, both are excellent.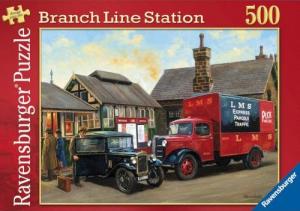 Riverside Cottages
This has an idea new to me two 500 piece jigsaws in the same box. Don't worry they are packed separately as otherwise even the real puzzle experts would be pulling their hair out.
This box (ref 14093) has two different Riverside Cottage pictures and while 500 pieces is probably the level for a bright child they can be fun for older people two. Ravensburger have been making puzzles for very nearly 120 years and unlike some they make sure no two pieces are alike. While 500 is not large they make a puzzle about 49x36cm when completed.
All Ravensburger puzzles are made with grained paper that means there is never and glare. I found it interesting that special glues are available for those who wish to conserve their works and hang them on walls. The images are certainly good enough to be hung.
Branch Line Station
Another 500 piece offering (however look at the Ravensburger site they do smaller and much larger sizes) this one taken from a time perhaps only remembered by grand parents and this taken from a picture painted by Kevin Walsh.
The puzzle size is 49.3x36.2cm and shows a Branch Line Station (No 14 587 4) with a small Austin (black of course) and an L M S parcel track parked outside a station. For those unsure about metric sizes it is about 20x14.5 inches and should you have a picture frame a little bigger than this then something like this once conserved on a backing card would look great on a wall in the right room.
The Ships Cat
While this is a jigsaw of 500 pieces like the ones above it is also a puzzle of another type. For those wanting a larger puzzle then there is The Artists Cat at 1000 pieces that also has the extra puzzle to solve.
Around the border of this 49.3x36.2cm puzzle are 46 flags/pennants and a number of letters and numerals. Firstly the jigsaw (no 14 626 0) at 500 pieces all but the very young should solve it in a reasonable time however with this you have only just started as you then need to find 15 well known nautical manes and expressions hidden in the map. Once this is worked out using the flags you should then be able to work out the title of the painting and even the name of the ships cat.
This very clever picture was done by Geoff Tristram who normally works on commisons only but things you may well have seen were the Charles and Diana stamps as well as illustrations for a number of books.
So with The Ships Cat solving the jigsaw is just the beginning.
Below is a link to Branch Line Station at only £6.84 and Riverside Cottages at £9.78 including free delivery.
http://www.amazon.co.uk/gp/product/B0012GEBE2?ie=UTF8&tag=gadge0a-21&linkCode=as2&camp=1634
http://www.amazon.co.uk/gp/product/B0006NM9UK?ie=UTF8&tag=gadge0a-21&linkCode=as2&camp=1634
Below Manufacturers link to Riverside Cottages
http://www.ravensburger.com/united_kingdom/products/adult_puzzles/2_x_500_piece_puzzles/riverside_cottages_14093/index.html
Currently I can find no Link for The Ships Cat but it is very new and should soon be on the link below