GE E1486TW Digital Camera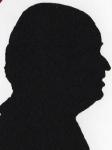 Review controls
If my memory is correct this is the third year of GE being involved in the production and marketing of digital cameras. This is a fairly standard shape of pocket camera that seems to have all the modern bells and whistles and it is totally touchscreen.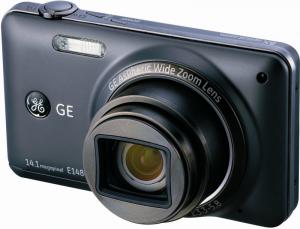 click image to enlarge
The GE E1486TW digital camera measures 9.5x5.5x2.5cm and weights 150grams, the lens expands another 3.5cm when fully zoomed. My review unit is silver with chrome trim but other colours are available.
As always one thing dominates the back the TFT screen which is 6x4.5cm (termed at 3inch), a very easy to use unit as the screen displays all the options and you just need to touch to change a setting, absolutely ideal for the novice.
The right side has the wrist strap anchor point and the HDMI and A/V out socket behind a bung. The left side is clear. The base has the anchor point for a tripod as well as a door behind which is the solid battery and any SD card you use. The face has the lens with chromed surround and the flash which is mounted a minimum of 3.5cm away.
This leaves the top that has a small bar on/off button another small bar button to view captured images and the round shutter release around which is the telephoto/wide angle control.
This is a 14.1MP unit with 8x optical zoom a 28mm wide angle lens with face and smile/snarl detection and panorama ability.
There are a total of twelve scene modes (less than a lot of other units) speed, indoor, snow, fireworks, museums (no flash), night, night landscape, children, leaf, sunset, behind glass, landscape and night portrait.
The image sizes are 14MP, 8MP, 5MP, 3MP, 2MP or .3MP the latter best known as VGA. You will be able to print an A4 image from a full 3MP shot however if you just want to print a portion of the image then 5MP. There are also 16:9 and 3:2 modes. Setting quality is from a different part of the screen 'Best', 'Fine' and 'Normal'
The camera can of course also take video at 1280x720, 640x480 and 320x240.
As with most modern cameras there is image stabilization and with the amount of lens movement at high zoom this is required. The panorama mode also works quite well.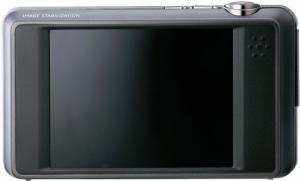 click image to enlarge
There is also 'smile' detection which has always been something I have been unsure about as it really just looks at the face for mouth – and possibly teeth – movement. So while smile sounds nice it could equally be snarl.
This is an easy to use digital camera, you will get perfectly respectable shots using auto mode the nearest thing to progression here is the scene mode, a lot of cameras have more but really the range on some (around 30 modes) is overkill and you should be able to get perfectly acceptable shots with the twelve available here.
I found the flash efficient and once I studied the images on a PC was quite happy but I did find that viewing them on the camera produced a very harsh image making everything appear over exposed but that is just the over bright backlight when the images are shown in a not that bright environment. Really that's my only gripe. The backlight is however adjustable but the brightness is needed when you take shots in bright outdoor conditions. While there is a manual mode will most ever use it?
The cameras battery charger is small and neat and therefore easy to pack and take with you when you travel.
This is a very new camera and doing my Internet searches only found one deal for the GEE1486TW in the UK at £149.99, this includes a 1GB card a case and free delivery.
http://www.greatdigitaldeals.co.uk/ge-e1486tw-digital-camera-1gb-case-p-1442.html.
However if you fancy buying it from the USA its $180 over there but of course there will be import duty and VAT to pay.
I found the GE E1486TW available from Amazon for $149.99 including free delivery on the following link:
http://www.amazon.com/gp/product/B003I85H1I?ie=UTF8&tag=gadge0a5-20&linkCode=as2&camp=1789.
I found the GE E1486TW available from Amazon for €174,48 including free delivery on the following link:
http://www.amazon.fr/gp/product/B003I85H1I?ie=UTF8&tag=gadge04-21&linkCode=as2&camp=1642.
http://www.general-imaging.com/us/Digital-Camera.aspx?id=1049
http://www.general-imaging.co.uk/our-cameras/power-series/e1486tw.html