Canon PowerShot SX600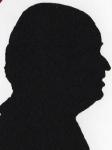 The PowerShot SX600 is a powerful pocket camera from Canon. This offering is small in size, runs on a solid rechargeable battery and has a huge 18x optical zoom, 16MP image capture as well as being able to take full HD movies at the touch of a button.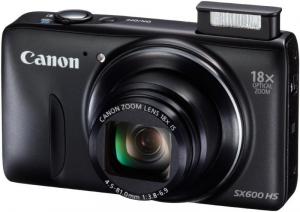 click image to enlarge
The Canon PowerShot SX600 measures 10.5x6x2.5cm and it weights 186grams. The last figure can increase by as much at 4.5cm when fully zoomed.
The right side has a wrist strap anchor point and a door that hides AV and HDMI out ports. The base has the tripod anchor point and a door behind which is the solid battery and any SD card you use. On the left side is a flip switch to manually raise the pop up flash.
The flash pops up on the top and is never nearer than 4cm to the 4.5-81mm lens which is the only thing on the front apart from a small rubberised strip to enable a finger hold. The other items on the top are a flush on/off button and a silvered shutter release that has the zoom control around it.
This leaves the back that is dominated by a 6x4.5cm TFT display that looks even larger as there is a black .5cm strip on its right side. Beyond this is a three position flip switch that has styles at the top, capture at the bottom and some interesting effects as the middle setting. Below this two pairs of well marked buttons with the ubiquitous five position joystick in between.
A few words on the TFT display it is not that reflective so unless you have sun right behind you it should be possible to frame an image without too much difficulty.
It can capture images in 4:3, 16:9, 3:2 and 1:1 ratios. Each can be saved as L, M1, M2 or S so 16 possible capturing sizes. 4:3 L is 16MP and the other sizes can down from that to around VGA.
Movies can be captured in three modes 1920x1280, 1280x720 and 640x480 and as stated above the mode you set needs just a single button press to start capture.
While everything I have described so far is little more than 'point and shoot' capture there are far more possibilities inside this PowerShot unit and I not referring to the effects possible with the setting between display and capture.
It of course has excellent Image Stabilization and Intelligent IS one feature I often need is ultra wide angle for the images I take at gigs where the walls stop me getting far enough back to get everyone in, not so with this offering.
It has a rather good ECO mode and for those that need it Wi-Fi and NFC are available. The second link I give shows all the specifications.
This is a nice easy to use but powerful offering that would not be out of place even with a professional and certainly for those who take shots that matter it would a good choice.
The Canon SX600HS is available from the first link below for £173.12 with free delivery.
http://www.amazon.co.uk/gp/product/B00HPWFFOW?ie=UTF8&tag=gadge0a-21&linkCode=as2&camp=1634
http://www.canon.co.uk/For_Home/Product_Finder/Cameras/Digital_Camera/PowerShot/powershot_sx600_hs/