Nikon Coolpix L100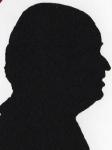 Review controls
This is the second Nikon offering I have reviewed, the first was extremely popular and I see no reason why this mid sized unit will not be equally so with anyone wanting to progress that bit beyond point and shoot.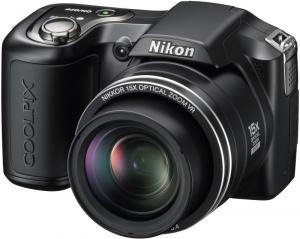 click image to enlarge
The Nikon Coolpix L100 measures 11x7x8cm, the latter figure the width can increase by 2cm when the lens is out. It weights 445grams. It is black with silver colour clips for the neck strap and around the shutter area.
The left side has an anchor point and a rubber bung to cover the A/V out and DC in. The right side has only the anchor point. The base has tripod screw and battery/SD card door. I always find it disappointing to have a quality camera (some Fuji units do as well) running on 'AA' batteries. The front has the lens with a flip up flash at least 6cm above the lens. The top has the shutter release with wide angle/telephoto adjustment around it; the on/off button completes the top.
This leaves the back that is dominated by the 6x4.5cm TFT display, there is no viewfinder, to the right of the display are four buttons in two pairs above and below the ubiquitous five position joystick and these are the controls, there is a small flash charging button towards the top just on the outside edge of the TFT.
While I dislike a quality camera not having a solid battery it does give a good grip for your right hand allowing images to be framed and captured but the lack of a viewfinder makes capturing in strong sunlight rather hit and miss.
This is a 10MP unit with 15x optical zoom. While 10MP may seem less generous than some other manufacturers units it is not the size that matters but the quality of the CCD. 15x optical is very good and to get this without a huge unbalancing of the unit means better images.
There are four ways this camera counters the novices biggest problem 'blur' Sensor Shift VR (vibration reduction), High ISO, Best Shot Selection and Motion Detection Compensation. All these can work towards getting a clear sharp image in perfect focus.
This unit has two different Auto modes, Easy Auto Mode where it makes all the decisions and the more normal Auto Mode where you can have some independence.
The macro mode works as close as 1cm allowing that really close up shot. While it has at least one feature that I at least still do not agree with 'smile mode' where it is claimed to take images when the person smiles, what it does do is take images when teeth are shown and this could be a snarl or even an obscenity but all manufacturers seem to think it's useful. Slightly more useful is the blink warning sensor.
Far more useful is Advanced Face Priority AF with in camera Red Eye fix – just not such a catchy name. This feature allows you to focus on a range of faces and it corrects false eye colour given by the flash. A nice feature that works well. Another is the continuous shooting mode very useful for fast action where normal mode is far to slow.
There are seven different image modes high and normal compression at 10MP, normal at 5MP and 3MP, PC screen mode, VGA mode and a 16:9 mode. In movie mode you can have 640x480 or 320x240.
This takes good clear sharp images and is small enough to fit in a bag or case. Once you have the knowledge bin the Easy Auto Mode and start learning with Auto Mode and then you will be on your way to staring to become someone taking decent images. Once you start making the decisions – with knowledge – you will not regret the change.
Doing my Internet searches found the Nikon Coolpix L100 at a best price of £194.69 including free delivery from the first link below.
http://www.amazon.co.uk/gp/product/B001RBQGTU?ie=UTF8&tag=gadge0a-21&linkCode=as2&camp=1634
http://www.europe-nikon.com/product/en_GB/products/broad/1751/overview.html