Olympus OM-D F-M5II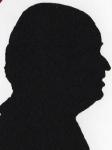 This is a DSLR in a body so small that you assume it isn't. It comes with a 14-42mm lens and is smaller than even some small digital cameras, it has a neck strap it has a viewfinder and it has a flash shoe in normal conditions you might never use any of them.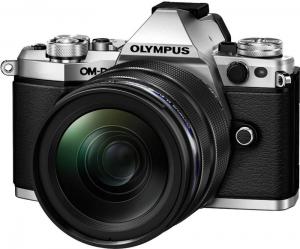 click image to enlarge
The Olympus OM-D measures 12.5x7x8cm and weights 534grams.
The right side has a neck strap anchor and a hinged door behind which any SD Card you use lives. The left side has the other neck strap anchor and a rubber bung over the external connectors. The back has a 6x4.5cm TFT which can twist through 180 degrees to present a blank back and of course protects the TFT it can also be open beside the left of the unit and twist through 270 degrees so it enables you to see over or around things that would otherwise block your view. To its right the thumb anchor point and below this two pairs of well-marked buttons split by the ubiquitous five position joystick control.
The front has the excellent light sensor and the lens which is controlled with minimal movement. The base has the solid battery bay and a tripod anchor point.
This leaves the very busy top that may even put some off thinking they could never manipulate all these controls but RTFM and all should be well. First a nine position wheel I always start with Auto and only venture from there when I am happy, to its right is the on/off slider next is the viewfinder which is clever in that if you use it the TFT is blanked, on top of this is the shoe for the supplied flash unit. Finally a raft of buttons some of which can be set for pre-defined choices and at the front the shutter release beyond this a red button which enables you to select video capture and indeed it does take really good video.
A default setting video of 30 seconds will take around 120MB of space but this will vary according to the subject and the scenery. A default jpg 4608x3456 will be around 3MB of space with the same provisos as above.
Videos were crisp and clear – even in low light – and providing you are not over using the zoom then there will be little noise. As for still images I was more than happy with what I got and even at dusk I never needed the flash. I was more than surprised at the quality even hand held in low light.
One example was taking images onto a basically lit stage found plenty of light, I then thought I would get a poor image by taking an image into the poorly lit area that the audience were in and got an image far clearer than I could see with the naked eye.
There will – I hope - be a second article to follow on this camera linked to the Olympus LS-P2 which I reviewed earlier this year, while this camera takes excellent video if you are at a gig or performance that has music you also want top class sound so with a small link and a cable the two become one and normal sound becomes high quality sound, so be patient it should follow in a few weeks.
The Olympus OM-D E-M5II is available – with a slightly different lens - from Amazon for £1249 with free delivery.