TwistJax from Atomic Floyd

Published Aug 28, 2009 Author
petew
Review controls
Our ears are as individual as the rest of us and with TwistJax Atomic Floyd aims to provide a perfect fit for all, combined of course with superb sound.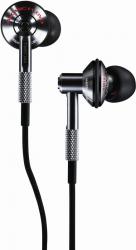 click image to enlarge
This is the second set of headphones from Atomic Floyd that I've reviewed, the previous being the Titanium 2 reviewed back in January. The TwistJax shares many characteristics with it's earlier stable-mate - notably a high quality finish, excellent sound quality and durable design.
Each earpiece is solidly manufactured in metal with no external plastic elements. The drum connects to the cable via a metal shaft that is designed to align comfortably with your particular shape of ear. This is achieved through Atomic Floyds Twist2Fit pivot arrangement whereby the ear drum rotates through 90° with respect to the metal arm allowing you to find the ideal position for your ear.
Continuing with the quality theme, Atomic Floyd make use of a chorded cable rather than the more traditional plastic coated wires common with less costly alternatives. While the cable itself is robust I did find it susceptible to kinking if you are not careful - I wouldn't recommend simply throwing this product into the bottom of a bag and expecting not to have cable problems. To protect the headphones Atomic Floyd provide a small pouch. Simply roll up the headphones and place them into this pouch and throw that into your bag!
The cable is terminated with a straight 3.5mm jack plug that will connect to your portable media player. If you want to use these with a more traditional hi-fi the product comes complete with a 6.5mm adaptor.
I've been using the Twist2Fit headphones now for several weeks with no problems. Sound quality is excellent on both my iPod Touch and my Sony Ericsson phone. Despite being an in-ear press to fit design they stayed comfortably in place well during reasonable levels of activity including washing and gardening, although this particular pair are not the best choice if you're intending any strenuous exercise! The quality construction does however result is slightly heavier 'solid' earphones which coupled with the cable can result in these pulling loose from the ear. A great addition would have been a small clip on the cable to attach to a suitable piece of clothing and thereby supporting some of that weight.
One small gripe would be the left/right identification. Atomic Floyd mark each earphone with a very small 'L' or 'R' in a circle in a light colour, which against the silver of the metal is almost impossible to read except in very bright light. This lead to a reasonable level of frustration each time I used them. Given than in use the letters are pressed into your ear and therefore not visible I think using black for this lettering would not adversely affect the aesthetics.
In summary - sound wise a very good product for sound, quality of construction, appearance and comfort. There are a couple of minor points with regard to usability. Priced at £129 this product is very much aimed at those people that wish to appreciate their music and are not satisfied with low-cost, low quality product offered with many portable music players currently on the market.
You can find out more about the TwistJax on the Atomic Floyd web-site.