Samsung27inch S27B970D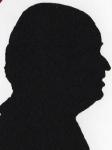 This is another large flat panel, and, what a unit this is. Not only is it big at 27inches but it also can display a lot more that that seen on most other panels as the maximum resolution is 2560x1440 and not the glass ceiling of 1920x1080.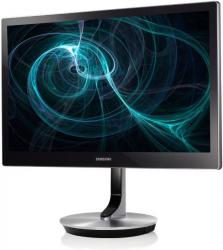 click image to enlarge
It is 64x39x1cm the latter at the edges; it does become 2cm thick further in. The stand is circular at 25cm and2.5cm thick. The arm that connects it to the panel can collapse to 6cm or raise to 16cm and the movement is so smooth.
Almost all monitors and panels I have ever reviewed have a dumb stand meaning that its purpose is simply to support the panel. Here while the connection method is still into the back of the panel the base has a USB hub.
The base of the arm where it attaches to the base is where the five external control buttons are making them far more accessible than the normal position of the under edge of the panel. Two rows of two with the single on/off in front. This means that as the latter is illuminated when power is on you know and the others are well marked.
As now seems the norm the User Manual is on a CD-Rom together with drivers and software. However it will work by just selecting your connection method and plugging it in, in my case it also changed the screen resolution from the standard 1980x1020 to the 2560x1440 and while of course everything is smaller the pixels are very sharp and easy to fix the eye onto. Text is of course smaller but very crisp and even easier to read.
The quality of video and images will of course depend on your graphic adapter but I was more than happy and when I imported a desktop background that I had used for a long time on another PC there was a new sharpness and intensity to it.
You can connect using DVI, HDMI or Display Port. The built in speaks give a lovely sound with 7 watt output.
As stated there is a two port USB hub on the right side of the stand base to help enable you to keep a clear desk.
Although I only tested it with Windows XP and Windows 7 it is stated to work with MACs. It has Eco Saving features with five built in colour configurations. Using the software provided you can create your own.
In standby mode it uses less than .5watt power. The stated viewing angle is 178 degrees to either side, there is a good amount of back tilt for those viewing from above and a little forward tilt for those viewing from below.
Such a large unit may be considered to be heavy but I weighed it with the stand connected and it was less than 8kilos.
Yes this is not cheap, I do not know any panel capable of 2560x1440 that is. However the clarity must be considered and you only get one pair of eyes. I rather rushed over the hydraulic arm earlier its greatest beauty is that you move it a centimetre up or down and it stays there with no need to secure it in that position.
While some may want to hang several USB devices from the two port USB hub there is no reason why you should not attach another hub to one of the ports.
It looks great, the colour, clarity and brightness are superb in fact it is surely an object of desire; sadly the price may put it beyond most.
The Samsung 27inch S27B970D Series 9 is available from the link below for £909.18
http://www.amazon.co.uk/gp/product/B008CU619O?ie=UTF8&tag=gadge0a-21&linkCode=as2&camp=1634
www.samsung.com/uk/business/business-products/business-monitor/professional/LS27B970DS/EN