HP All In One 276DW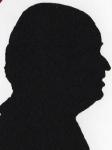 Review controls
This is a four in one device and somewhat larger than recent items of this sort. Being black it will either need to work in an office, in the home of a Goth or be secreted away behind a sofa or in a cupboard, with Wi-Fi or Network it can be.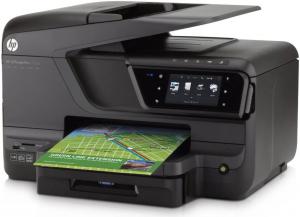 click image to enlarge
It is 48x42x35cm, you will need to add a few centimetres to the last figure if you wish to use the flatbed scanner rather than the page feed.
The front is dominated by the pull up 9.5x5.5cm TFT display. Just above this are five LED lights with clear markings. The on/off switch is towards the base under the TFT overhang. A substansial paper input tray is in the central part at the base with the output being delivered on top of this. A USB stick input is to the left of the paper tray.
Connections are at the rear are all in a vertical line on the left side. Fax, Ethernet, USB and mains input.
I recently discovered at least one business who still uses a fax that is my local pharmacy who gets urgent prescriptions faxed through from doctors surgeries.
Just for a change I used a PC that has network connection but no Wi-Fi so while I did use Wi-FI from the unit to the router it was network from the router to the PC. The initial reaction time is longer but once printing or scanning starts there is no perceivable delay.
Printing the nonsensical 200 word document I always use in my tests came through at 24PPM and even though all my tests are done in 'Draft' mode the output is black and quite acceptable. The other choices are normal and best.
The more normal 1500 word document spread over four pages was only slightly slower at 21PPM. As with all my tests for text printing you print 'x' times and start timing from the moment the second page starts and stop just as the last page starts to print.
Printing a full page colour image on photo paper took 126seconds in total, the quality for a four ink unit was good and unlike a lot of other units the cartridges are a good size. In fact the blurb recons that running costs are 50% less than a laser.
When you scan it can be from the flatbed or using the page feed which of course means a number of pages can be placed on the unit at one time. Just like the other uses this can also be undertaken in duplex mode. A single scan can be output to the PC – or should you wish the USB stick on the device – in PDF or JPEG – scan to email (smaller size) is also possible – and this was very rapid at only 20 seconds.
A copy can of course be completed without the PC being connected or even on, accepting the units defaults of like for like brings a good colour copy in 18 seconds and a monochrome one at only 12 seconds.
A big thing is made of the '50% cheaper to run than a laser' during a two week loan period I would need to be running it a lot to be able to form an opinion but no doubt someone would sue HP if it were not true. The cartridges are larger than normal so as the cost of the ink is a large component in overall cost lets assume its true.
Certainly if you print on glossy photo paper images will look better printed from a decent inkjet than from a laser. Print times are now no longer unobtainable and I often exceeded the claims made by HP. There are many options for scanning and copying and while it used to be only copying could be done without the PC being connected now with the addition of a USB port on the device you can scan in all formats to a USB stick.
This is a nice – if rather big – unit and certainly worth looking further into the running costs for yourself.
The HP 276DW is available from the first link below for £249 and this includes delivery.
http://www.amazon.co.uk/gp/product/B00BX33XUM?ie=UTF8&tag=gadge0a-21&linkCode=as2&camp=1634
http://www8.hp.com/uk/en/products/printers/product-detail.html?oid=5081833&jumpid=oc_r1002_uken_c-001_r0001