Epson Expression Home XP-5100

Review controls
The Expression Home XP-5100 is a compact 3-in-1 inkjet machine with WiFi connectivity that can print double-sided and has been designed to meet virtually every need of the home user.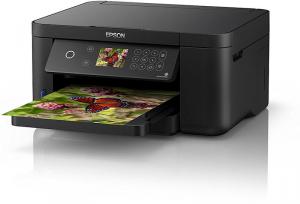 click image to enlarge
The unit is matt black in colour and, being just 38cm wide, 35cm deep and 18.5cm high, can sit unobtrusively in the corner of the room and does not even have to be located near the computer as it can be accessed via WiFi as an alternative to USB. The control panel, with its 6.1cm diagonal colour display is hinged so that it can be swung up to a convenient viewing angle while a memory card slot is located vertically on the left hand side at the front of the machine.
When in use the paper output tray extends a further 16cm and a reasonable amount of headroom is needed so as to be able to put originals on the glass platen for copying or scanning.
The front-loading paper tray will hold up to 150 sheets and is located beneath the output tray. There are adjustable width guides to accommodate A4 and smaller sizes. In order to print an A4 sized photo one can just place the paper, face down, on top of the existing paper in the cassette even though, for smaller sizes, it is necessary to remove the normal A4 paper from the tray and then adjut the paper guides to suit. Automatic double-sided (duplex) printing of A4 is an option.
The printer employs four cartridges: pigment black and dye inks for the cyan, magenta and yellow. It has a resolution of 4800 x 1200 dpi. As with many Epson printers, print quality is very good with type still being remarkably sharp down to 5pt although one cannot recommend this size of print for everyday use. The ISO print speeds quoted by Epson are 14 ppm mono and 7.5 ppm colour.
As well as the 502 series of standard cartridges, Epson offers higher capacity 502XL cartridges. These have 2.5x the capacity and offer a reduced cost per page. Nevertheless, taking the list price of black XL cartridge and the claimed page count, the printing cost nevertheless is still 5.27p per page.
While the print menu in an application will generally be used to set up printing parameters the control panel provides access to additional printing facilities as well as copying and scanning settings.
Under the Web Services Settings there are the Google Cloud Printing Services and Epson Connect Services. However, in the User Guide there is a note that, if using Windows 10, it is necessary to obtain appropriate software from the Windows Store to enable one access these additional features such as mobile and cloud printing services.
As well as B&W or colour copying there is the choice of single or double-sided and, when going to the advanced settings, other options include enlarge/reduction and the "multi-page" where two original pages can be reduced to fit onto one page.
One of the unusual features, under the heading "various prints" is the ability to print a whole range of paper "blanks" including 5mm square graph paper and sheets ruled for music.
While many of the everyday scanning options such as B&W or colour, JPEG/PDF and 200/300/600 DPI can be selected from the control panel the Epson Scan 2 utility on one's PC provides an extended range of options. These include resolutions up to 1,200 DPI and a wider range of data formats.
Overall, at a time when smartphones and tablets are increasingly being used the XP-5100, which is available in Amazon for £110.27, is a versatile 3-in-1 machine that will meet virtually all today's needs and enable the user to produces good quality results from a variety of sources.