Pioneer X-HM50-k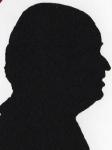 Review controls
The box says it's a CD Receiver System, I call it an audio unit or dare I use the words 'Hi-Fi' unit. Apart from playing CDs it has DAB and FM Radio and of course an iPod dock, there is also another feature to read on.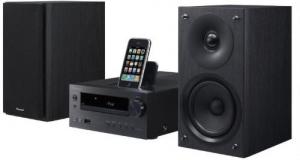 click image to enlarge
A rectangular black box that easily sits on a shelf, it is 34x21.5x10cm however the iPod flap lifts from the top so you need to perhaps double the last figure the height. My 9cm tall Nano actually requires an extra 8cm so measure your own iPod and then take a cm off the height to see the required clearance as it tilts back slightly.
The front of the unit has two buttons to the left and one large button to the right of the 12x1.5cm two line display. The display is white on black and very easy to read the main line there is also a small icon line above. Below this three inputs for headphones/earbuds, audio input to allow your MP3 player etc to connect and also a USB stick socket – got it yet. There are then a further five small buttons to complete the units controls.
The rear has twin line in sockets to allow to play external sounds like a TV through the units 100watt speakers, there is also a video out socket (videos from iPod or iPhone) to put output from devices to display on your TV. Below this is the hard wired mains lead, further along is a connector for a supplied wire aerial that inputs both DAB and FM signals. Above this four bared wire connectors for the supplied speakers, there is also a socket to connect a subwoofer.
There is a 28 page operating instruction manual that should allow even a novice to get working. However once connected to the mains almost everything can be controlled by the 45 key remote control, this took me a while to get used to the system it uses as changing from each mode is not controlled by a single toggle button as with some however a few days use soon got used to the system. I only needed to go to the system to change the CD.
The remote control toggles between CD or USB playback (you had guessed by now hadn't you) the CD works like most others you can play sequentially, randomly, repeat or even have programmed play. Very nice and easy to use. However the gem is the USB playback not just memory sticks but also from USB hard drives. While this unit can play CD or CDRW discs made up of MP3 or WMA file it's the first I have reviewed that can play the files direct from a USB stick or hard disc and still scroll all the tracks details on the screen.
It is slightly complicated to organise an ordered playback so RTFM to work it out so that playback occurs as you want.
Of course the iPod/iPhone dock works as you would expect and your device will never sound better than with this unit. If you do not have an iPod (some people don't) the unit can still replay music from any MP3 player.
The radio mode is also good with a single switch to toggle between FM and DAB, up to 40 FM channels can be saved to presets, tuning is quite quick and when on the station the frequency number chances to the station name. On first use with DAB it will autoscan but stations come and go so use the manual to find out how to do it manually.
You may need the manual to work out to set the clock, when off to display the clock for a few seconds just press the clock button on the remote. You have a sleep timer mode for those who have this in the bedroom and also something that could be used as an alarm.
Review periods for such units are always short but after the learning curve with the remote it has been just sheer joy and with more people using downloads rather than buying CDs this and a hard disc make sense just use a site that gives you high quality MP3 such as 320kbps. Unless you are a real audio expect as this level with this sort of unit you are unlikely to notice the difference between CD and 320kbps MP3 files, I loved it.
The Pioneer X-HM50-k is available from the link below for £229
http://www.rgbdirect.co.uk/ProductDetails.asp?SKUNumber=111405&Model=Pioneer-XHM50K
http://www.pioneer.co.uk/eur/products/42/202/227/X-HM50-K/specs.html