thumbs Up Retro Touch Speaker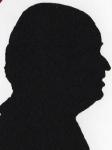 This is another version of the recently reviewed item from thumbs UP that got the highly desirable and very rarely awarded 5x5 award. It has the same great volume increase ability to turn a low volume from and speaker into something desirable.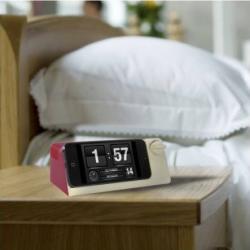 click image to enlarge
It is somewhat larger and also has a separate volume knob, it can show video on the screen if placed correctly and lets the sound come out of the speakers, yes I said speakers so there is stereo and while it can be run on batteries it is also possible to run on mains power. It is also possible to charge your playing device via USB while in situ.
On the basis of what I have said above this surely is worth another 5x5 award. The word 'Retro' in the main is perhaps the only reason why – in discussions with the Editor – we decided to only offer it highly commended.
The scarlet and faded cream colourings do it no favours and the fact that if running on mains the lead emerges from the rear meaning a narrow ledge to place it needs to be wider.
It is 15.5cm long 8.5cm wide at the base 5cm wide at the top and 5.5cm tall.
It works by you locating where the speaker in your Smartphone or other music device is and placing it on the sloping front with the speaker located at the left end of the shelf, the opposite end to the on/off volume knob.
The battery bay is in the base it takes 3x'AA' batteries. It can run on rechargeable ones.
The back has a line of three connections, a 3.5mm socket for Auxiliary input via lead suitable for those music devices without an internal speaker. Micro USB to power the unit from the mains (Micro USB to USB lead supplied), you would either need to plug this into an adapter or a USB port on a computer. The last connection is a standard USB port that allows you to charge other devices from it and as stated above even the device you are playing from.
The original idea was great you just placed your Smartphone etc on top and it played at a vastly increased volume. This adds a lot more choices but it also loses the original simplicity. Do not get me wrong it is still a very useable product and I am always bending over to be fair to each product individually – perhaps that's why I have a bad back – if I had never seen the original Touch Speaker Boombox I would have perhaps rated this higher.
It works well and most importantly gives you added volume without distortion; you also have the ability to control volume either from your Smartphone or from the device via the volume knob.
I have my doubts about charging another device from it, yes it works I tried it. But would you buy it for that purpose?
The thumbs UP Retro Touch Speaker is available from the link below for £22.95
http://www.amazon.co.uk/gp/product/B00I4YVI5K?ie=UTF8&tag=gadge0a-21&linkCode=as2&camp=1634