Canon Pixma MP210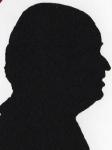 Review controls
This is a sleek low slung AIO (All In One) unit that without the black front may have just passed the lounge police. However it still is a rather nice unit that does everything rather well.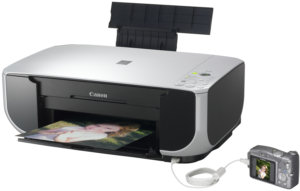 It is 43x34x15cm the last figure the height increases by 17cm when A4 paper is in the tray at the rear of the unit.
The scanner lid opens landscape front to back and to the right of the lid are the only controls a total of eight buttons and some LED's including a simple 1 to 9 counter for copies.
You can of course copy either in colour or black without the PC being turned on or even connected to the unit. Around a minute for a colour copy and about 40 seconds for a black one. Both were good quality and quite acceptable. Of course should you use the excellent Canon software within Windows you have more options and choices.
Printing gives you four modes high, standard, fast and custom. The fastest is custom when set to speed the output is a little grey but still okay for a memo. However the speed is not that fast at around 12PPM for both the nonsensical 200 word document and the more normal 1500 word offering spread over four pages. If you go to fast the output is nearly true black and not that much slower at 10PPM.
Moving onto photo images printing a full A4 borderless image on photo paper took just two minutes the quality was excellent and the image was completely dry. Canon have long had Photo Print software and they were the first to allow you to print four near 15x10cm on a single sheet and this too took only two minutes. For a printer that can print so rapidly and clearly in colour on photo paper I wonder why the text printing is not quicker. Still if you have a lot of black printing to do then use a laser.
Being an AIO unit not only can you print, copy but you can also scan. Quite unusually there is a scan button on the unit but for this to work you need the PC to be connected and turned on. In fact I found it easier and more convenient to do everything from within Windows. A novice could simple select Scan Import Photos or Documents from the Canon Solution Menu there are six basic choices Colour Document, Black White Document, Colour Photo, Black White Photo, Colour Magazine and OCR, the default is the first. It is also possible to save the output as a PDF file.
I was somewhat puzzled by the button that let you choose plain paper, 15x10 photo or A4 photo on the unit as it does not have any card slots but if you look closely you will find a Pict Bridge socket to allow direct printing from your camera located very near the base of the unit on the right front edge.
Currently Amazon have the Pixma MP210 for £37.99 including shipping. So should you be looking for a four ink two cartridge solution this is extremely competitively priced. Photo Printing is excellent for a four ink printer, it is also quick. Copying is okay for the odd document, scanning is good the only drawback is that it is not rapid for text printing.
For an AIO unit anything less than £50 would be a good purchase.
http://www.amazon.co.uk/CANON-PIXMA-MP210-PHOTO-4800X1200/dp/B000UXAORG
http://www.canon.co.uk/For_Home/Product_Finder/Multifunctionals/Inkjet/PIXMA_MP210/index.asp