COOL-ER Book Reader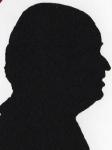 Review controls
Over the last months I have requested to look at several of these book reading devices about the size of paperback but definitely lighter than a hardback. This is the first of them to arrive this one is called the COOL-ER.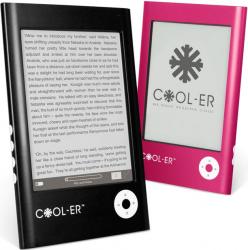 click image to enlarge
The colour was shocking pink (they do other colours) and while I have seen others using these devices on a train as a mere male without a great feminine side I decided to do my reading behind closed doors as pink and I don't really mix.
It is 18.5x12x1cm and it weights 190grams, the screen is 12x9cm. I was somewhat put off by an off icon in the centre of the screen all the time it is not on. Still if it's not on you are unlikely to be looking at it that much.
Below the screen the last 4cm of height has the word COOL-ER on the left and of course the ubiquitous five position joystick on the right half. The base has a micro USB socket that allows downloads to the unit and also charges its internal battery, beside this is a 2.5mm headphone socket however a 2.5 to 3.5mm adapter is supplied.
The right side has a + and – toggle and this increases/decreases the text size (range of 10 sizes) the smallest of which displays 37 lines of text and I was defiantly not comfortable at that size, the next size up has 20 lines of text and this is very readable. The other eight sizes have progressively less lines and of course far larger text. Several of the texts I read have illustrations and these were very well displayed in good monochrome.
The left side has four white buttons and while there is an illustration on them of what they do it is white on white so until you know it is a little hard to follow. The top has an SD card slot to allow you to import texts and MP3 files this is also where the on/off switch is.
Any texts take the first 11.3cm of the display area with the last .7cm being a light grey on black line (for contrast) that shows battery state page number an indication of font size and a slider to show how far you are through what you are reading.
The black text shows out well on the light grey background providing there is a reasonable amount of light around, you cannot use this sort of device in a darkened room as there is no backlight and this is why battery life is very good this is said to be more than 8000 page turns, it uses almost no power while on a page.
While reprising my thoughts I had the unit on with the supplied Quick Start Guide (around size four needed for easy reading), I was also sent a hard copy version of this that looks as though it was photocopied so I do hope this is supplied as there are useful illustrations that are not included in the on unit version of the Quick Start Guide.
The version I was sent has German, Spanish, Portuguese and luckily English as my German is rudimentary and my Spanish and Portuguese non existent.
As this is the first such unit I have reviewed I have nothing to go on, it seems good you can of course buy extra books online and download them and a huge library can be built up best of all you do not need a library in your home to house them. I can see adding your favourite type of MP3 so you can listen while you read being popular.
Assuming that weighty text books are available this will be a great way to learn without having to carry lots of books with you.
I was clearly able to read all texts even when it was placed around 45cm from my eyes at the top of my keyboard whilst typing this.
Doing my Internet searches found the COOL-ER for £189.95 from the first link below.
http://www.firebox.com/product/2417/COOL-ER-eBook-Reader?via=ser