Koba Aura Book Reader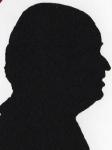 This is the smaller SD version of the Kobo HD that was launched earlier this year. Can this smaller device match what it offered, or does it launch offer even more as it has at least one feature that I have not noticed in other readers.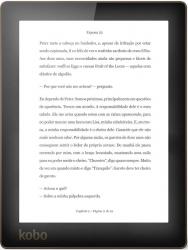 click image to enlarge
Size is always important and my first thought was is it big enough. It is 15x11.5x1cm and weights 174grams.
However the readable screen is 9x12cm with twenty lines of text in the default font size which is only just big enough for my old eyes but once you get into it then its fine. It certainly fits easily into the palm of your hand.
This has the best of both worlds being e-ink and having a backlight the latter will automatically turn off after 15 minutes.
The clear black text is fine even on a dull day but for those who like reading in a darkened or very poorly lit area then the backlight will then work well.
The backlight will automatically turn off after 15 minutes (to save power) but a touch on its button will reignite it instantly. You can of course also turn it off manually.
It is certainly small enough to fit in most pockets, as always I am more concerned that a rouge set of keys would damage the screen, as supplied to me it was 'naked' but I expect there are plenty of cases around to protect your investment.
There are two buttons on the top, the backlight touch button and to its right the red on/standby/off slider control.
The base has two sockets, Micro USB to USB (lead provided) that allows you to charge the unit or connect to a PC to sync but it can also do the latter wirelessly. There is also a Micro SD slot for those whose reading habits are heavy.
The 'Pearl E Ink' screen is very readable even in strong direct sunlight with less reflection than some other readers.
I mentioned the micro SD slot (up to 32GB supported) but Kobo recon that the built in 4GB of memory will be enough for up to 3,000 books. Battery life is stated to be two months between charges.
Every set of eyes require different font and size characteristics to be happy. The Kobo offers eleven font styles and each can be adjusted by use of sliders for size, weight and perhaps most importantly sharpness.
As far as I know Kobo are the only company to tell you how much of a book you have read and based on that how long it will take you to finish the book. When I first saw this I thought it was a gimmick but it can be very useful so that you can time when you finish a book by working back using their figures. No one wants four pages left to read as they arrive for work.
You can learn more about a book or author by tapping highlighted words. There are extra features – found under settings – and these include the ability to be read to which can be useful for tired eyes days.
Mine was black but I see other colours are available.
The Kobo Aura is available from the link below for £119.90 currently this link has black and pink.