Swinxs - a Wii without the TV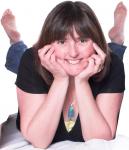 Review controls
Well that's what my 13 year old called it. Perhaps a small exageration, but this is a games console designed to get 8 - 12 year olds moving to it's beat.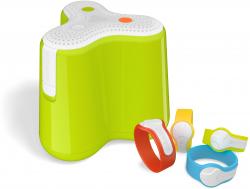 Here we have a standalone games console which operates on its own batteries and with no need for a television or hand held controllers. The Swinxs is modelled around good old fashioned party games such as Hide and Seek and Tag.
Swinxs has a central console and comes with four wristbands which are worn by the players. The wristbands are individually recognised, so Swinxs knows who is winning at any point in time. Swinxs comes preloaded with seven games. These include Swinxs Circles - a bit like musical chairs - the participants swipe their wristbands across the console when the music stopes. Hide and Seek counts down whilst the leader finds their hiding space. They can win by getting back to the Swinx before the seeker finds them. Or the seeker can tag the hider and bring them back to the Swinxs. The virtual fly in Flyswatter buzzes around and when it stops players slam their hands down to swat the imaginery fly. There are also quizzes with simple questions such as what language do they speak in Paris and how far away can you hear a lion's raw? The Swinxs comes with its own tunes and can also be used as a Jukebox when you download music from your PC.
More games can be downloaded from the Swinxs website at www.swinx.com. These include Swinx Dark - where players put their wristbands down in the dark, follow movement instructions and then find it again - racing to get their band to the Swinxs first. In Charades the Swinxs whispers a charade for the lead player to act out and the others to guess.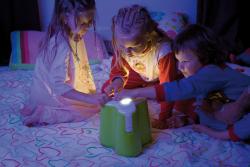 Up to 10 players can use the Swinxs.
On the plus side we should applaude Swinxs for its aspirations to get kids moving again. It is very easy to set up - my kids had it out of the box and working within 5 minutes. The games were easy to play without adult help. The instructions are read out by the console - so no reading for the little'uns. It's battery operated and can be recharged by USB cable. The games are reasonably easy to download from the Swinxs website - my 13 year old did it without any help. There are a good number of games available on the website and we can anticipate more being added over time.
Things to consider include the space in which you can use the Swinxs. Most of the games require a bit of running around, and we found it hard to find a room big enough to play Swinxs Circles indoors for example. It would be more ideal in an outside space or for use in a hall. I can see the Swinxs being used at Christmas and Birthday parties in a decent sized hall, or within a school hall environment with adult supervision.
At £130 this is up the high end for a toy that is an electronic version of traditional party games. Having said that it did keep my kids entertained for hours without adult supervision!
The Swinxs is available exclusively on the high street from Early Learning Centre and from www.elc.co.uk. RRP £130