HP PhotoSmart A516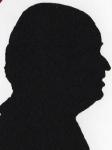 Review controls
A printer for 15x10cm photographs, it has a small TFT screen and can be connected direct to cameras via Pict Bridge, print from a range of photo cards or even from a PC.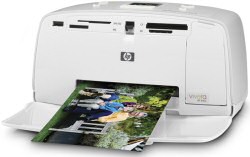 The HP PhotoSmart A516 is really small at 21x10x10cm when shut, in use the back tilts backward by 3cm at the top to allow storage of a few sheets of 15x10cm paper waiting to be printed. The front drops down this adds a further 10cm to the depth to catch the printed sheets.
I found - when printing directly - that around two minutes is required from selecting the image on the TFT to a virtually dry printed page being delivered. Among the things it does is automatically check for Red Eye.
This is a single cartridge - three ink - unit and fitting it is just a matter of opening a drop down door on the front of the unit and removing and replacing. Annoyingly it wants to use a photo sheet for alignment, I found that a standard sheet of paper cut to 15x10cm works okay.
The top of the unit has the 3x3.5cm TFT display that is fixed in it, so you need to adjust your viewing angle to it, unlike a lot of other such devices where the display can be lifted to suit you. There are four buttons and a three position unit that controls everything and while they are labelled if you are unsure the unit comes with a 68 page user guide to cover everything.
The rear has connections for the power adapter and USB lead for attachment to a PC, however I suspect most people will use this size of device without a PC being involved. Especially as opening the base reveals that this can be run from an optional battery pack.
Drop the front lid and it reveals the Pict Bridge connector that can also accept stick drives, also, four card slots, SM/XD, MS, CF and SD so most card types are catered for.
The front, back and base of the Photosmart A516 are cream with the top and sides in a matt silver grey colour.
I was perfectly happy with all the images I printed on a range of 15x10cm glossy photo paper both with and without the tear off strip at the end. I also used paper from not only HP but also Epson and Canon all performed well.
For a three ink printer the images were clear, sharp and the colouration of the images was fine.
Convenience has to be the main reason for using such a unit and the ability to accept a whole range of camera cards as well as printing direct from the many cameras that support Pict Bridge make that a really quick solution. Should you work away from power then the optional battery pack would be useful. While one was not supplied to me with this unit I have used them with other such units successfully.
Doing my Internet searches found this available for a best price of £29.45 including delivery and at that price it's ideal for anyone who wants to print just a few images or someone using it away from a PC.
http://www.amazon.co.uk/gp/product/B000HA461M
http://h10010.www1.hp.com/wwpc/uk/en/ho/WF06b/5043-5683-5807-5807-12429102-12429134-74052599.html