HP Photosmart D5160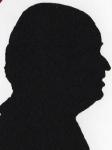 Review controls
This is grey and cream in colour inkjet printer. It's rather low slung and could even be acceptable in the lounge. Also, it is quite quiet when in use, even in economy mode.
Buy Now
HP Photosmart D5160
£41.39 from DABs


From £42.30 at Amazon

£55 from Cameras2u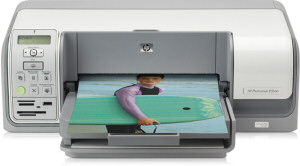 The Hewlett Packard PhotoSmart D5160 is 43x35x14cm, paper is stored face down in the base and delivered face up on top of the paper storage tray so no extra space is required. There is also a built in 15x10cm paper tray that photo paper can be left stored (face down) in and only when you select photo tray is it moved back into place. After printing of the 15x10 photo images it is moved forward out of the way. In fact the whole paper storage on the D5160 is quite novel. A4 paper is stored in what may seem a very inaccessible place but the shelf above hinges and lifts to 90degrees allowing you easy access to it. The lifting also takes the photo paper shelf with it allowing the 100 sheets of A4 to be stored without problems and if it is stored without kink or bend then a paper jam is also unlikely.
Unlike a lot of photo printers with a separate shelf (tray) for photo paper this can be adjusted to accept 13x18cm sheets as well as the normal 15x10cm, my only thought why not allow A4 photo sheets to be accepted here as well?
This is either a four ink (two cartridge) or six ink (two cartridge) printer. It accepts Black, colour and photo colour cartridges, mine was supplied with the all important sleeve to store the cartridge not in use to stop it drying out.
I found this to be a slow printer even when printing in fast/economy mode. I got around 8PPM for the ubiquitous 200 word document and only a little over 5PPM for the more normal 1500 word document spread over four pages. This was when printing black pages using colour and photo colour cartridges. Once I swapped out the photo colour cartridge and substituted the black cartridge things improved. I got around 50% faster printing but it also seemed a little noisier.
For normal printing I was pleasantly surprised to see the figures in the link below for printing normal and best quoted and these seem to me to be close to obtainable. However the claimed 'up to 31PPM' for draft mode was not.
Using photo paper and the supplied HP Photosmart software can produce an A4 borderless page in less than two minutes using the default settings however this is not 'best' and surely you always want 'best' when printing on photo paper. Printing externally is probably the easiest way to get best mode and this took a quite respectable 210seconds. The website mentions 15x10cm images in less than 30seconds again this could not be 'best' mode however I did print these in something around 50seconds and this to me is quite acceptable given that most standalone photo printers tend to take close to two minutes to print 15x10cm images.
Like some other recent printers this can also print images directly onto CD's or DVD's but please do not try to print onto standard CD's or DVD's or you will have a terrible mess that will probably never dry. You need to use specially coated CD's or DVD's they do cost a little more but probably no more than one of the kits including stick on sheets of paper. These also look rather naff to me whereas an inkjet printed image onto the coated CD's tend to look quite professional. Using the software provided is easy but you do need some care in the image selection or text layout and you do need to remember that nothing can be printed in the central area of the disc.
This printer looks nice, prints quietly, is good quality, but slow for text printing and it has the plus that it can print direct onto CD's or DVD's.
Doing my Internet searches found the HP Photosmart D5160 at a best price of £44.98 from the first link below.
http://www.amazon.co.uk/gp/offer-listing/B000I7FDG6?condition=new
http://h10010.www1.hp.com/wwpc/uk/en/ho/WF06a/5043-5047-5287-5287-12703576-12703792.html