Goodmans GPS185DAB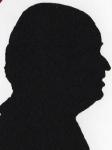 Review controls
This looks like lots of larger CD/Cassette/FM/AM radio units of a few years ago, there is of course a bonus and that comes in the form of DAB.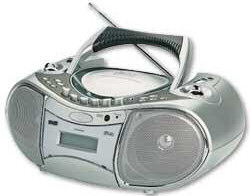 This is not by any means a small unit, a little smaller than the ghetto blasters that ruined the shoulders of many a youth and the hearing of those that came into contact. It is 34x22x12cm. It can be run on batteries but as it takes 8x'C' cells this would make it somewhat expensive to run. I used it mainly on mains power, there is both an internal rod aerial and external wire aerial, I found the rod aerial worked for me, but I do live in a good DAB reception area.
When you first take it from the box you are somewhat overwhelmed by the 24 dials and buttons on the top of the unit, apart from this there is also a twenty eight key remote control. However when you look you start to see the layout and the fact that almost everything serves a purpose meaning that an area of buttons do a job and you soon need only the prompts by the buttons to perform a task.
I was less happy with the 28 sides that form the instruction manual as it is in fact a single sheet that folds out like a very large map, certainly a normal booklet would have been easier to follow in the early stages when it is essential.
The fact that no batteries are provided - not even the 2xAAA required for the remote control - makes the price subject to the cost of 8x'C' batteries should you wish to run from batteries.
I was happy with radio reception on all three bands, FM/AM/DAB and while you can store favorites in DAB there is only manual tuning for FM/AM giving the opinion that DAB was something added to a unit that already existed.
The cassette works well and you can of course record from other sources onto it so for instance a radio program can be time shifted to suit when you are available. There is however no clock so all recordings need to be manual. It is also possible to record using the units built in microphone.
The CD works fine and it can also be programmed to play tracks in a certain order or even to replay a single track.
My only real concern is what you would use it for and where you would use it. I think it is unlikely to replace an audio system, it is really a little bulky for the average kitchen although it would manage to cover all the bases. Perhaps you were thinking of the bedroom but as it has no clock it is not a lot of use in there, again as I have said somewhere else recently maybe in Version 2.
The Goodmans GPS185DAB is available for £59.99 from Argos on the following link :
http://www.argos.co.uk/static/Product/partNumber/5130638.htm