Alba DAB/FM Radio from Argos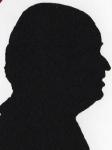 This is a small Mono DAB/FM from Alba a budget brand now sold by Argos. So what can you expect without having to spend that much money? The first surprise for me was that it is both mains and battery operated so immediately a plus.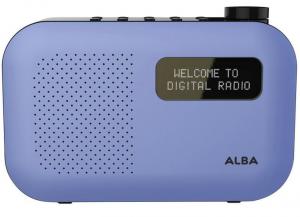 click image to enlarge
It is 16x10x5cm and weighs 306grams (without batteries). With 4x'AA' batteries not supplied add another 96grams. It has a seven piece rod aerial that will increase the 10cm height by 42cm when fully extended.
There are two rows of five buttons Power, Scan, Menu/Info, Prev and Alarm on row one. Row two is Mode, Preset, Select, Next and Snooze. There is also a large twist know that is simply volume.
The rear has the battery bay, an on/off slider, earbud socket, and DC input.
The display is to the right of th3e speaker on the front it has two 16 alfa/numeric display the top line will show station and the lower line can show scrolling display.
You have ten DAB Presets and ten FM Presets, both are important as moving between stations is not as easy as with some more expensive offerings and requires pressing the 'Prev' or 'Next' stations however many times to move through the number of stations between 'x' and 'y' in the case of DAB for me it finds 93 stations however you can prune stations that you know you will never want.
Setting a Preset is first a case of tuning to that station and then selecting 'Select' then pressing 'Preset' for around two seconds if that Preset is empty then that is it however this always defaults to position one, you need to press 'Prev' or 'Next' to find a free Preset or should you wish overwrite a saved station. Whatever then press 'Select' to store. A little long winded but most people listen regularly to only around five stations.
More or less the same to set your FM stations but you tune by pressing and holding 'Prev' or 'Next' fine tuning is by pressing and releasing the same buttons for .05MHz movement. FM has always been best via Presets as at the very least you have to know your stations frequency but once set the settings remain even if you leave it powered off – even with no batteries – for an extended period.
It has two alarms which can be set quite easily; you can then press the 'Snooze' button which has options of 5, 10, 15 or 30 minutes.
You can also go to sleep listening to your radio with Sleep Timer being settable for 15, 30, 45, 60 or 90 minutes. One of my pet hates is a very bright (unadjustable) backlight here there are nine time settings before it goes out.
There is a 44 page A5 manual that explains all this and more.
While I would not want to listen to a concert on this it's fine for background and certainly acceptable for speech programs.
While setting things up – like Presets - is a bit of a faff apart from that I have no complaints.
My unit had a light blue (described as mint) face with the sides top and base shiny black. The box says it's also available in Sky Blue, Orange and Purple all with the same black for sides base and back.
The Alba Mono DAB/FM radio is available for £24.99 (the other three colours are all on 'Clearance' at only £15.99)