A Report from Budapest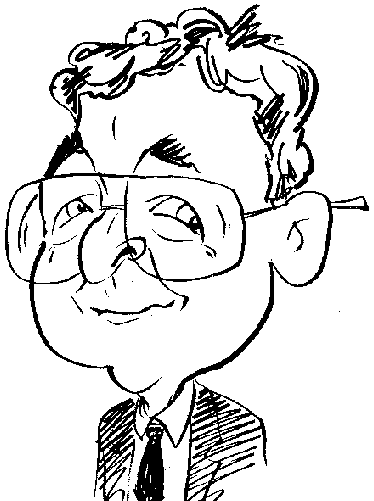 Review controls
Michael Fereday joined up with Acer in Budapest to bring us this report on the company's latest batch of desktop and notebook models.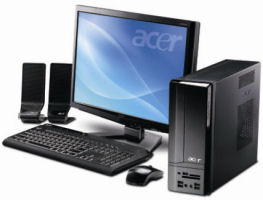 Aspire X3200
Never the one to sit back and contemplate past achievements, Acer took the opportunity, offered by its Global Press Conference, to announce several new products to help consolidate its position as third in the total PC market and second with regards to worldwide notebook sales. These products are aimed at different sectors of the market and have been developed as part of a multi-brand strategy that takes into consideration the recent acquisitions of Packard Bell, Gateway and eMachines into the Acer group.
Hard core gamers, often regarded as a breed apart, can look forward to the Aspire PREDATOR G7200 and G7700 models. With the promise of aggressive radical design and a superior gaming experience, these models are aimed at those who play games for the fun of facing impossible challenges and overcoming limits. While the G7200 is based on the AMD Phenom 4x processor, the G7700 uses an Intel Core 2 Extreme quad-core processor. A multimedia gaming keyboard with illuminated keys, for playing in the dark, and a gaming mouse are included as standard.
Several other new desktop models were also unveiled. For the professional user, Acer offers three new Veriton models designed around business needs. The M670(G) is a micro Tower; the S670(G) adopts a Small Form Factor approach; while the L670(G) is an Ultra Small Form Factor model. All three models are driven by an Intel Core 2 Quad processor with Intel vPro technology. The first two models feature 8GB of ultra-fast DDR3 memory while the third model comes with 4GB of DDR2 memory.
A further three new desktop models were added to the Aspire range. For the home user looking for a powerful multi-tasking, multimedia computer, there is the M7200. This tower system has a black chassis with an electric blue panel on the front. Based on the AMD Phenom processor, the M7200 features Blu-ray, 7.1 channel surround sound and a HDMI port interface plus integrated ATI Radeon HD 3200 graphics.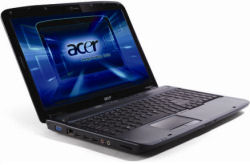 Aspire 5735
If you are looking for a Small Form Factor model then there is the X1700 driven by an Intel Core 2 Quad processor with NVIDIA GeForce 7100 and nForce 630i chipset. The X3200 is an extra Small Form Factor model based on AMD Phenom quad-core processor with NVIDIA GeForce 8200 chipset.
As you might expect, new notebooks were on the menu with Aspire and TravelMate brands well represented. Six new models are available in the Aspire range featuring Acer's Gemstone blue design. The 8930G (18.4-inch) and 6935G (16-inch) models are equipped with Intel Core 2 Duo processors, Mobile Intel PM45 Express chipset and built-in Wi-Fi functionality. Both models give the user the choice of Blu-ray or a DVD-Super Multi double-layer drive.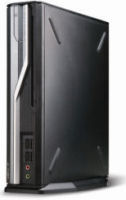 Veriton L670
Featuring a wide aspect 16-inch HD CineCrystal LCD panel with 16:9 aspect ratio, the 6930 and 6530 notebooks are based on the Intel Core 2 Duo processors and Mobile Intel PM45/GM45 Express chipsets or AMD Turion x2 Ultra dual-core mobile processor and AMD M780G chipset respectively. A similar pattern is followed with the 5735 and 5535 units with the former being the Intel offering and the latter AMD. These two models feature a 15.6-inch HD Acer CineCrystal TFT LCD panel with 1366 x 768 pixel resolution and twin 3DSonic speakers.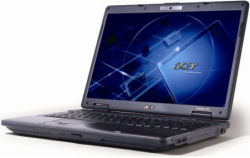 TravelMate 7730
As with the Aspire new entries, Acer introduced six new models to its professional TravelMate range. Three of these models belong to the 6-series and feature up to 4GB of DDR3 memory plus a DVD-Super Multi optical drive. The 6593 has a 15.4-inch WXGA screen and is based on Intel Centrino 2 processor with vPro technology featuring Mobile Intel PM45 or GM45 Express chipset. The 6493 model comes with Intel Core 2 Duo vPro processor with Intel Virtualisation technology and a 14.1-inch WXGA screen. Featuring a 12.1-inch WXGA screen, the 6293 is equipped with an Intel Core 2 Duo processor with support for Intel 64 architecture and Mobile Intel GM45 Express chipset with integrated 3D graphics.
With a 17-inch WXGA+ wide screen display, the 7730 model comes with an Intel Core 2 Duo processor and Mobile Intel GM45 Express chipset plus up to 4GB of DDR2 memory. Based on an Intel Core 2 Duo processor with up to 2GB of dual channel DDR2 memory, the 5730 has a 15.4-inch WXGA screen. Finally the 5530 is the sole AMD offering with the new batch of TravelMate offerings. This model features the AMD Turion 64 x 2 Ultra Dual-core mobile technology with up to 4GB of DDR2 memory and a 15.4-inch WXGA screen.