Acer Nitro N50-600D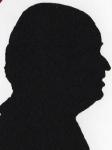 This is a small but extremely powerful tower system. Acer does a number of different versions under the same name and model number both with and without an SSD drive, it also has various Intel and AMD processors so do think about all this prior to selecting where to purchase it from as certain models like this one are only available from two outlets.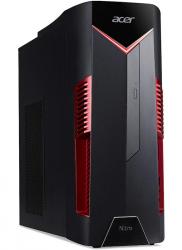 click image to enlarge
It's 35cm from front to back but add another 5cm for cables to be inserted. It is 16.5cm wide and 35cm tall. The top has a wireless charging plate towards the front. The front has a vertically mounted optical drive and towards the right near the base an SD card port, a USB 'C' and a USB3 port (always on) as well as 3.5mm headphone and microphone sockets.
The back has kettle style mains lead, lower down are four USB2 sockets and below this two USB3 ports and an Ethernet port. Finally three audio sockets. There are three expansion slots and the top one is occupied with a graphics card that has Digital, HDMI and Display Port outlets.
As mentioned there are a lot of different models, this one as per the link below seems rather good value to me.
It has an Intel i5 8400 processor running at 2.8GHz, GeForce GTX 1050 graphics with 2GB memory, there is 8GB RAM a 128GB SSD 'C' drive and 1TB Hard Drive 'D', it also comes with Windows 10 and a DVD drive. The nearest compatible version has a 256GB SSD but costs over £200 more.
The first thing to do is try to keep everything apart from the operating system off the SSD. Windows does make that easier these days and I installed four programs I use regularly on the 'D' drive without much going onto the SSD. Boot up is consistent at between 11 and 12 seconds, shutdown is 4 seconds.
While I am not a gamer I do manipulate large video and audio files and switching between external programs worked well and indeed showed zero lag.
This system comes with a USB keyboard and mouse.
I tested it with two flat panels one was a standard HD offering and the other capable of up to 4K, there was never any problems of Desktop organization of icons which sometimes occurs when resolution is changed.
If you are looking for a small tower with expansion possibilities there are spare bays and if 8GB RAM is not enough it can be expanded up to 32GB. While over the years a good number of towers of all sizes have come in for review I cannot remember another system that did everything I asked so willingly yet as Windows has progressed and SSD's have become almost mainstream Microsoft have made it easier to place the majority of external programs and 'Apps' of the hard drive and that means less clutter on the SSD.
Most similar systems would be over £1000 as indeed are its sibling offerings but this is on offer from Argos at £799 or from Laptops Direct for £759.99.