Samsung Digimax S800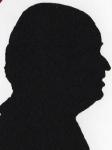 This is a camera by Samsung from their 'entry level' 'S' series of cameras. However it has a number of features that are certainly not entry level but it still can be a point and shoot offering.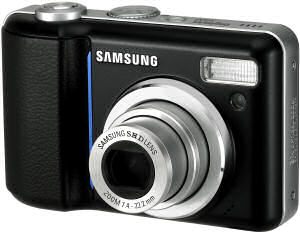 The Samsung S800 is a maximum of 10x5x6cm (with lens extended) it is only just over 3cm thick with the lens closed. The weight is something under 200grams with the two 'AA' batteries and SD inserted and the wrist strap attached. The SD card is not supplied. The camera itself is silver/grey in colour with a leather type strip for the finger grip.
This is an 8Mege pixel offering with 3x optical zoom. The controls are few, on the top are the power button, an eight position wheel and the shutter release. The left side is blank and the right side has the anchor point for the wrist strap. The base has tripod anchor point, proprietary connector and the battery cover door that also hides the SD/MMC card.
This leaves the face and back. The face has the 7.4-22.2mm lens and a decent sized flash mounted around two centimetres to the right and above it. The back is dominated by the 5x3.5cm TFT display, apart from this there are three buttons a wide angle/telephoto toggle and the ubiquitous five position joystick. The illustrations are clear but if you have any doubts then an 84 page manual should explain everything.
All Samsung 'entry level' cameras are powered by two 'AA' batteries and are supplied with around 24MB of internal storage. There is a CD supplied with Digimax Master software but for most the easiest way to transfer images is to use an SD/MMC card and just connect to a PC or notebook via a card reader. However this software is certainly worth a look.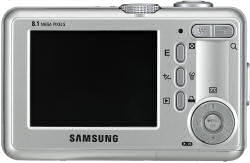 On first insertion of the batteries you need to set time and date and this is very quick and easy via up and down controls on the ubiquitous five position joystick control. In fact all the controls via the menu are clear and easy to operate.
There are nine different resolutions from 8MP down to VGA and each has three compression modes. So 3264x2448 down to 640x480 are the possible image sizes. My own opinion is that this is just too much choice especially for the novice.
I would suggest you start by using no more than three different resolutions to get an idea of what it can produce. If you only want to print an A4 image then 8MP is a definite overkill. To print the whole image at that size 3MP should be plenty.
There are seven scene modes, Landscape, Close Up, Sunset, Dawn, Backlight, Firework and Beach and Snow. My advise again try them just to see what difference they make to what the 'Auto' option gives. Certainly when taking images in reduced light they can help but a tripod will also be of assistance in keeping the camera still.
You can print direct from the camera using Pict Bridge and this camera also supports DPOF. Like almost all recent digital camera it can be used as a basic camcorder and it takes movies at 640x480 at 30fps. Certainly not something to try on internal memory but with SD cards being far less than £10 a GB (I have even seen 2GB advertised for less than £10) memory should not be a problem.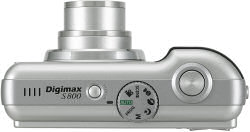 No case is supplied and should you tend to keep this in a pocket or purse then the TFT needs some protection to avoid scratching the surface of the screen. Also the lens is covered but the two sides of the lens cover are easily parted. A number of dealers will make their margin by selling cards and cases with the camera.
I was happy with the images this unit took and have many good printouts to satisfy me of the sharpness and depth of the images.
Doing my Internet searches found the Samsung Digimax S800 at a best price of £104.99 including free delivery from the first link below.
http://www.amazon.co.uk/exec/obidos/ASIN/B000NDKA68
http://www.samsungcamera.co.uk/product/pro_view.asp?prol_uid=1212&cat_uid=11