Canon Ixus 110is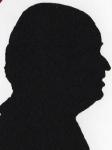 Review controls
If it isn't broke don't mend it does not seem to apply to the highly successful range of Ixus cameras. I have reviewed several and numerous things are in different places in fact it looks quiet different to earlier models.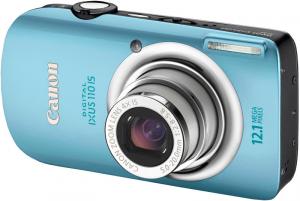 click image to enlarge
I suppose change had to happen as the wide screen mode alters the form factor it is still small and powerful but the shape has changed. It is 9.5x5x1.5 when the lens is fully extended this adds 2cm to the last figure. The weight is 160 grams. Mine had a powder blue face but they are available in a range of colours.
The right side has a door covering the HDMI and A/V out sockets as well as a very trendy looking wrist strap anchor point. The base has the tripod screw as well as the door covering the battery bay and SD card insertion point. The left side is bare. The face has the 5 to 20mm lens with the slit flash mounted above and at least 1.5cm to the side of the lens.
The top has a three position slider Auto-Manual-Movie, the on/off button and the shutter release with the wide angle/telephoto toggle around it. This leaves the back that is dominated by the 6x3.5cm TFT display and just two lozenge shaped buttons between the ubiquitous five position joystick button. So the whole design is very clean.
All the controls you might want are available from either the function (centre button of the joystick) or the menu button. Ideal for a pocket or purse my only worry is there is no protection for the very exposed TFT display, why cannot a single slip case or bag be provided with the product.
There are six shooting modes L, M1, M2, M3, Small and Wide. These are 4000x3000, 3264x2448, 2592x1944, 1600x1200, 640x480 and 4000x2248. Each can be saved in either fine or normal compression making 12 different ways to fill any SD/MMC card you may use.
In movie mode there are three resolutions available 320x240, 640x480 and a rather nice 1280x720. As with the still image you are told how many frames you card has capacity for and with movie it's how long your movie card be according to the spare space on your card.
Pressing the top lozenge takes you to replay mode and this together with the joystick allows a very quick flip though the images as well as many other viewing options. Using the zoom button allows very quick movement into an image. With a lot of cameras this is somewhat jerky and certainly not smooth as it is here.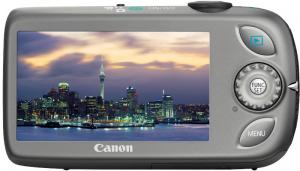 click image to enlarge
For those coming from a 35mm background the 5-20mm lens equates to 28-112mm. There is 4x optical zoom and also (should you want it) 4x digital zoom. As far as I am concerned digital zoom is only useful when viewing images on the display. If you use it to capture image I fear you will be disappointed with the results.
There are of course various extras like anti shake (very useful and works well) face detection, ISO sensitivity from 80 to 1600. Various white balance settings modes daylight, tungsten, fluorescent etc and more than 20 different scene modes.
Excellent images in daylight as well as using flash and the HDMI mode in movie mode makes it very close to being a camcorder as well as a digital camera. If you need a larger SD card this unit also supports SDHC.
A very nice Ixus and once again it comes close to a 5x5 award in fact having found the price below I recommend it for the rarely awarded 5x5 award. You are unlikely to find a better specified and performing pocket camera than the Ixus 110is.
Doing my Internet searches found the Canon Digital Ixus 110is at a best price of £265.16 from the first link below including free delivery.
http://www.amazon.co.uk/gp/product/B001T9NH1K?ie=UTF8&tag=gadge0a-21&linkCode=as2&camp=1634
http://www.canon.co.uk/For_Home/Product_Finder/Cameras/Digital_Camera/IXUS/Digital_IXUS_110_IS/index.asp?specs=1&source=selector