Samsung PL150 Digital Camera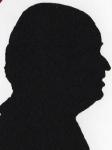 Review controls
This is a small – almost dainty – digital camera that will easily fit in a pocket or purse. It is predominately black with certain silvered buttons and a grey band along the top and one side. I would even consider it stylish.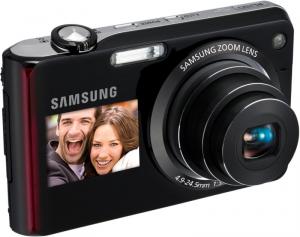 Samsung PL150 digital camera measures 9.5x5.5x2cm and it weights 150grams. The face has the 4.9-24.5mm Samsung Zoom Lens (5x) and the slit flash mounted above and to its right a minimum of 3cm and a maximum of 4cm behind the nearest part of the lens.
The base has a tripod anchor point as well as a door that hides the solid battery as well as any micro SD card you use. The only thing on the left side is writing to say it's a 12.4MP unit. The right side has a door to cover the small HDMI slot and a micro USB socket. Do not lose the cable as it is a non standard piece of equipment.
The top has a small button that allows you to activate a small forward facing TFT that is great for self portraits and also by sequential clicks for capturing young children's attention, the power button, a slightly angled shutter release that has the wide angle/telephoto control around it. This leaves the rear of the camera.
It is dominated by the 6x4.5cm TFT screen described as 3inch as that is the diagonal measurement. To the right a column of controls at the top an eight position wheel, below this the menu button and below this the ubiquitous five position joystick and finally another pair of well illustrated buttons. These lower buttons can be hard to read in certain lights as they are stamped into the actual button without any colour to help you use them.
There are four movie sizes 1280x720HQ, 1280x720, 640x480 and 320x240. The first three resolutions can be captured at either 30 or 15FPS while the last size can be captured at both or those as well as 60FPS should you wish.
The still images can be captured at 12MP 4000x3000, 10MP (3:2) 3984x2656, 9MP (16:9) 3840x2160, 8MP 3264x2448, 5MP 2560x1920, 3MP 2048x1536, 2MP (16:9) 1920x1080 and 1MP 1024x768. 3MP should have enough detail to print an A4 image but Samsung recommend 5MP and should you wish to print a partial image this should be more than adequate. There are three compression modes Super Fine, Fine and Normal.
Like most cameras there is Face Detection, this unit also recognises registered faces and this is called Smart Face Detection. There is also Blink Detection and another favourite Smile Detection but this last feature is also snarl detection as it works on mouth movement.
There is also Image Stabilization and it seems to work quite well especially when you are not that well balanced. However for large zoom or images taken in windy conditions nothing works as well as an anchored tripod.
Apart from Auto there are other modes Smart Auto that recognises the scene type for you. Scene mode that lets you choose from ten different modes. There are different wheel spaces for Night and Beauty modes. Finally there is a program mode. Once you have mastered these modes then you are probably ready to progress.
I was happy with the quality of both video and still modes. There was good depth of field and the flash images were better than what you see in the TFT just after capture that make everything appear very harsh however when examined on the PC all is fine.
I wonder why Samsung go for Micro SD rather than SD and as always why no case as the TFT without protection will scratch.
Doing my Internet searches found the Samsung PL150 at a best price of £129 from the first link below.
http://www.amazon.co.uk/gp/product/B00361ECHM?ie=UTF8&tag=gadge0a-21&linkCode=as2&camp=1634
http://www.samsung.com/uk/consumer/camera-camcorder/digital-cameras/compact/EC-PL150ZBPSGB/index.idx?pagetype=prd_detail