Pictures from Sony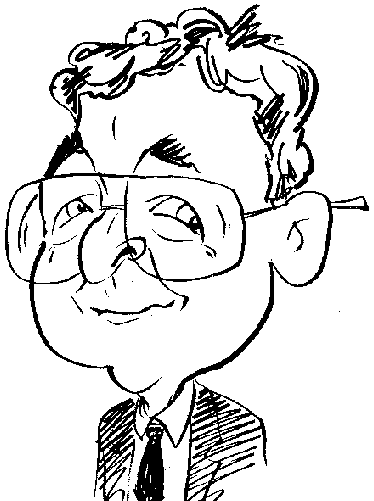 Review controls
Photos are meant to be seen which probably explains why digital picture frames are among popular purchases.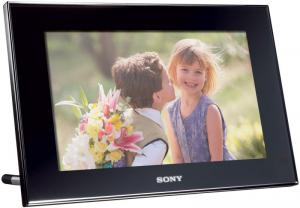 click image to enlarge
You can always rely on Sony to put emphasis on style with its products even when that product might be classified as being of the entry-level variety. An example of this tendency can be seen with the Sony DPF-D70. This is Sony's entry-level 7-inch digital picture frame offering.
Surrounded by a reflective black frame, the 7-inch diagonal screen has an aspect ratio of 15:9. It can be positioned in either portrait or landscape orientation. In either position the frame is supported by an adjustable stand. Setting up the device is fairly straightforward once you realise that the on/off switch is located, flush to the frame, right next to the power light.
Memory card slots are available for Memory Stick, CompactFlash, Secure Digital and xD type cards. There is also a USB port for connecting the unit to a computer for transferring images. You will need to supply the USB lead as one is not provided.
As well as multi-format card support and USB connectivity, this photo frame comes with 256MB of built-in memory that can be used to store up to 500 images (depending on size) internally. By default the DPF-D70 will check for the presence of a Memory Stick (hardly a surprise with the Sony connection) followed by CompactFlash, SD and xD before using images stored as part of an album in internal memory. You can set the device to initially check for your preferred choice of memory card as one of the options available from the menu system.
Menu access is available from controls positioned on the rear of the frame or by using the small remote control that forms part of this package. Generally the menu structure and options are straightforward although you do have to be aware that some features only apply to specific modes. You can adjust the time delay between images and brightness; select from a range of transitions; set the time and date; and, as mentioned earlier, specify the source for the images.
The DPF-D70 supports various types of image display. For many the slideshow will be the preferred choice as you select from modes that include a single image, multiple images shown in various combinations, clock & image view, calendar & image view or random view. The adjustable time delay is only available with single image and calendar mode while transition selection is restricted to just single image mode. Other available viewing options allow you to view a single image with information regarding file name, format and creation date; an index of images in small or large thumbnails; and either analogue/digital clock or a monthly calendar.
Image quality is of a high standard. While I am not a fan of reflective displays, others find this feature appealing, this did not distract too much from the images on display. The frame is susceptible to finger smears but no worse that other similar products. As somebody who has a habit of mislaying small items, I would have appreciated a docking cradle for the remote control.
While there are a number of budget 7-inch digital frames available at a lower price point, the Sony DPF-D70 offers both good image quality and a range of display modes, including my personal favourite of showing up to three images at the same time, which could tempt you to part with £84.00 of your cash. When connected to a computer you will need either Windows 2000 and later or Mac OS X.10.4 and later.
Best price at Amazon of £84.99, including shipping.
Best price at Amazon of $123.84, including shipping.
Best price at Amazon of €155,03, including shipping.
Details from the Sony web-site :
http://www.sony.co.uk/product/dph-digital-photo-frames/dpf-d70