Philips Juicer HR1871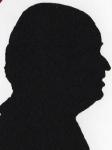 Anyone who tends to want fresh juice really should have a juicer as they tend to get far more from items than the manual alternative. This unit claims to get 10% more juice out than other such products; I have tested this over Christmas.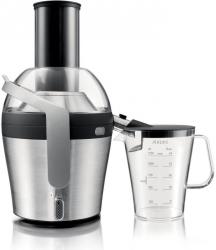 click image to enlarge
In fact even though I trained for two years as a chef it was over 50 years ago and although the various kitchens had huge mixers I do not remember any with juicing ability. Certainly at that time the only things that got juiced were oranges and lemons.
While recent years have allowed the juicing of almost any fruit, vegetables still seem to be more of a novelty. Certain things like carrots and celery seem more likely and you often see chefs extracting juice from items like ginger however this process is often done by hand with the juice strained once the flesh has been totally destroyed.
The large Philips offering is 41x17x17cm, it weights 4.3kilos. The base up to around 20cm is all stainless steel. Above that high grade plastic and the top 20cm – where you insert the fruit or vegetables – is only around 10cm across.
Until you get above the stainless steel it looks like some form of large vacuum flash, the top does look like a kitchen tool.
There is an A5 instruction book with the first nine pages in English. The first page shows you how the sixteen lettered items are reassembled after cleaning. This includes a jug and lid for you to catch the units output.
Perhaps a mention of the pieces will get your mind working, Pusher, Feeding Tube, Lid, Filter, Juice Collector with spout, Pulp Window, Integrated Pulp Window, Driving Shaft, Locking Arm, Motor Unit, Control Knob, Cord Storage Compartment (cord is 1.05metres long), Detachable Spout, Spout Accessory, Juice Jug and finally Juice Jug Lid.
At this point a number of people will reach for their lemon reamer and if that is all you would use it for why not.
However there is a near two hundred page book that shows you exactly what fruit and vegetables can do for you. It is written by Jason Vale who with his juices helped Jordan lose two stones in three months, the book normally sells for £12.99.
Towards the base the unit has a three point control switch, centre is off left for one speed (slow) and right for two speed (fast). Certain foods need to be prepared on the slow setting while others need the fast to be prepared correctly.
I am not going to go into detail of the difference between a smoothie and a juice only to state the obvious that the former is thicker. The 800watt motor gets the most possible out of whatever you feed into it.
In my tests I used a range of fruits that I am sure everyone has such as oranges, lemons, apples and pineapple and others such as tomatoes (yes they are a fruit) however my education really started with the vegetables celery and carrots may seem obvious but do you immediately think that baby spinach has a lot of juice to offer, however root vegetables such as swede and parsnip would never have even entered my mind to juice up.
Towards the rear of the book there are eight pages about various fruit and vegetables and what their juice can do. Beetroot for example cleanses the liver and helps with iron deficiency, anaemia and helps keep your arteries clear.
Not a cheap tool but it will certainly extract more goodness that a lot of other tools will allow to be thrown away. It is available from the first link below for £200 with free delivery.
http://www.amazon.co.uk/gp/product/B005LBM17S?ie=UTF8&tag=gadge0a-21&linkCode=as2&camp=1634
http://www.philips.co.uk/c/juicers-and-blenders/avance-collection-800-w-xxl-tube-hr1871_00/prd/